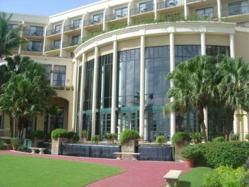 "We look forward to these products supporting our growing commercial building business for years to come. Their durability and performance fit well with the overall high expectations of the Huper Optik Smart Films."
Houston, TX (PRWEB) March 15, 2013
Hüper Optik USA, a pioneer of the first Multilayered, true nano-ceramic window film, has launched a new film technology targeted to the Commercial Sector.
Huper Optik Therm-X Films use a proprietary blend of metals to create the highest performance films in their class while allowing a high amount of visible light. The Therm-X technologies provide privacy, high heat rejection, high light transmission and great return on investment, while providing a 15 year commercial warranty that will give the owner peace of mind.
All three of the Therm-X films deliver the following benefits:

Increase in the performance of existing glass
High light transmission ratios for natural light
Great return on investment
"With the combination of High visible natural light and High heat rejection, these films provide some of the best Return on Investments available in the industry." said Faisal Nazir, CEO of Huper Optik USA. "We look forward to these products supporting our growing commercial building business for years to come. Their durability and performance fit well with the overall high expectations of the Huper Optik Smart Films."
Studies show there is 1.5 Billion square feet of glass in the light commercial sector and 1.5 Billion square feet of glass in the large commercial building sector that do not have a performance coating. These films deliver up to 72% total solar energy rejection when applied to existing glass and will have significant impact on the energy efficiency of these buildings.
Huper Optik USA is a market leader in German engineered, multi-layers nano-ceramic and traditional solar control film technology, providing energy savings and security solutions for commercial, residential, automotive and marine industries through a strategic network of authorized dealers in the United States, Mexico, South America and Canada. The company, which celebrated its 10 year anniversary in 2010, is known for its innovations in ceramics, including its patented dual layer, nano-ceramics, neutral toned products, with low interior reflectivity. For more information or to become a dealer visit http://www.huperoptikusa.com or contact communications(at)huperoptikusa(dot)com.