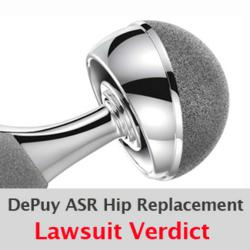 If you or someone you love were injured by a DePuy ASR hip replacement recall device, please visit yourlegalhelp.com, or call toll-FREE 1-800-399-0795
Columbus, OH (PRWEB) March 11, 2013
The attorneys of Wright & Schulte LLC, an experienced defective medical device law firm, are extremely pleased with the verdict in the nation's first trial involving a DePuy ASR hip replacement implant lawsuit. According to Reuters, jurors on Friday ordered Johnson & Johnson and DePuy Orthopaedics to pay $8.3 million in damages to a retired prison guard who claimed that he suffered metal poisoning and other health problems as a result of a DePuy ASR hip replacement he received in 2007. The DePuy ASR hip replacement implant was recalled in August 2010 after data revealed the DePuy ASR hip replacement hips were failing in 12-13% of patients within just five years. The DePuy ASR hip replacement lawsuit heard in Los Angeles was the first of 10,750 stemming DePuy ASR hip implant recall to be heard by a jury. (Kransky v. DePuy, BC456086)
[reuters.com/article/2013/03/08/us-jj-trial-
hips-idUSBRE92711P20130308]
Wright & Schulte LLC is offering free case evaluations to DePuy ASR hip replacement recipients who suffered serious complications including:

Metallosis
Loosening of the implant
Pain
Swelling
High levels of chromium and cobalt ions in their blood
Premature failure resulting in revision surgery
For more information on filing a DePuy ASR hip replacement lawsuit, or to arrange for a free legal consultation, please visit yourlegalhelp.com, or call 1-800-399-0795.
According to Reuters, the jury in Los Angeles found that the DePuy ASR was defectively designed, and awarded the Plaintiff $338,000 in medical costs and $8 million for pain and suffering to. However, jurors declined to award punitive damages in the case. The Plaintiff in the DePuy ASR hip replacement lawsuit suffers from kidney cancer and other illnesses, and his case was expedited under a California law that gives preferential status to the terminally ill. Experts interviewed by Reuters said the outcome of this claim could bode well for future DePuy ASR hip replacement lawsuits, with one analyst predicting a national settlement offer from Johnson & Johnson. The company has already set aside more than $3 billion to cover costs for the DePuy ASR hip implant recall.
During the trial underway in Los Angeles, evidence was presented that raised serious questions about Johnson & Johnson's handling of the DePuy ASR hip implant. For example, The New York Times recently reported that documents presented during the trial included reports by an English surgeon that the resurfacing version of the ASR was releasing high levels of metallic ions in patients. But rather than take any action to protect or inform patients and doctors, Johnson & Johnson merely discussed moving quickly to redesign the implant. Unsealed motions also revealed a 2011 company analysis that found 37% of patients implanted with a DePuy ASR hip replacement would suffer failure of their implant within five years. Not only was the Johnson & Johnson analysis never made public, but the company publically disputed similar findings in a report published by a British joint registry that same year.
[nytimes.com/2013/01/23/business/jj-study-suggested-hip-device-could-fail-in-thousands-more.html]
More than 7,000 DePuy ASR hip lawsuits filed since the recall are pending in a consolidated litigation underway in U.S District Court, Northern District of Ohio, where trials are supposed to begin this spring. (MDL 2197) Another 2,000 DePuy ASR claims are pending in various state courts. In fact, jury selection is currently underway in another state lawsuit pending in Illinois' Cook County Circuit Court. (In Re DePuy ASR Hip Litigation, No. 10-L-10506)
About Wright & Schulte LLC
Wright & Schulte LLC, a leading personal injury firm, is dedicated to the belief that America's legal system should work for the people. Every day, the attorneys of Wright Schulte LLC stand up for the rights of people who have been injured or wronged, and fight tirelessly to ensure that even the world's most powerful corporations take responsibility for their actions. If you're looking for a law firm that will guarantee the aggressive and personal representation you deserve, please do not hesitate to contact Wright & Schulte LLC today. Free DePuy ASR hip replacement lawsuit case evaluations are available through yourlegalhelp.com, or call 1-888-365-2602.
Contact:
Wright Schulte LLC
812 East National Road
Vandalia, Ohio 45377
1-888-365-2602