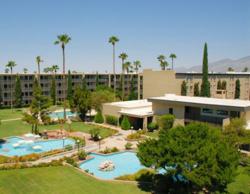 "The addition of the solar water heating system eases the heating burden on our boiler equipment and reduces natural gas costs. This is a long term solution that is more sustainable and more economical for our facility."
Tucson, Arizona (PRWEB) March 12, 2013
Phoenix-based Easy Energy has just announced it has completed the installation of its largest customer site to date for solar water heating. The commercial solar company in Arizona installed 600 solar thermal collectors on carports throughout the community which will meet a significant portion of the hot water demand for the 615 -unit facility, serving more than 650 residents.
The installation includes collectors for domestic water heating at each of the four resident buildings as well as 2 of the 5 swimming pools which are heated year-round for resident recreational use.
"The management of energy costs and the HVAC equipment required to create a comfortable living environment for our residents is a major focus of our Operations Team," says George Ortega, Executive Director. He adds, "The addition of the solar water heating system eases the heating burden on our boiler equipment and reduces natural gas costs. This is a long term solution that is more sustainable and more economical for our facility."
As part of the system, the Arizona commercial solar company added 17,000 gallons of hot water storage via heat exchange tanks to maximize the daytime solar harvest and allow the heat to be used after the sun goes down. The existing boilers will supplement heating needs whenever the solar heat cannot meet the demand.
"Solar water heating is a solid and proven technology, not just in our sunny Arizona climate, but throughout the world," says Brian Bartel, President of Easy Energy and lead Project Manager, "Our installation staff has enjoyed hearing the comments of the residents, many of whom shared their stories of using solar water heating in their own homes in years past." Added Bartel, "Although some of the controller technology has improved in recent years, the basic premise of transferring solar sunlight to water has endured and will continue to serve as a renewable energy source for years to come."
About Easy Energy
Easy Energy is a Registered Arizona Solar Contractor based in Phoenix, Arizona, and operates state-wide. The commercial solar company in Arizona has designed and installed 40 commercial solar energy systems since 2008. Easy Energy administers the paperwork for customers to receive applicable rebates, tax incentives, building permits and financing. For more information on Easy Energy's solar energy solutions for commercial applications, please call (602) 302-7640 or visit http://www.easyenergyweb.com
About Fellowship Square Tucson
Operating since 2001, Fellowship Square provides Independent Living to over 600 residents and Assisted Living to 60 residents. Our community is "Tucson's best choice for senior housing", offering ten different floor plans of apartment homes ranging from studios, one, and two bedrooms. Our customers are our top priority and it shows in our actions. Fellowship Square attracts a diversity of residents who are interested in sharing their life experiences, enjoying one another and being a part of a community. Residents value the safety and security they feel living in a community that not only cares for its residents, but also cares about them. We understand that peace of mind is a key reason for choosing a retirement community and offer independent living and assisted living for a carefree lifestyle without the worries of home maintenance and household chores—while enjoying the benefits of a luxury resort-style, senior living community.
Fellowship Square-Tucson is a resort-style community set on 22 acres, and offers a full range of daily restaurant style dining, transportation to shopping and medical appointments, housekeeping, emergency call system, 24-hour security, gyms, pools, social, cultural and wellness programs. Daily activities include aqua therapy, fitness classes, , Wii games, bingo, card games, Bible studies, religious services, educational presentations, musical entertainment, dances, computer classes, outings to cultural and sporting events and physical therapy.
For more information, call today, 520-886-5537 or visit our web site at: http://www.fellowshipsquaretucson.org