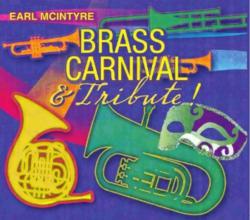 The Tribute! band allows me to honor great musicians and family members in my own way
(PRWEB) March 11, 2013
Award winning Jazz Trombonist/Arranger Earl McIntyre is known for his rich tones, incredible brass arrangements and diverse repertoire making him a "go to" for performances and arrangements ranging from classical to jazz. His new release, Brass Carnival & Tribute!, showcases many of those attributes and more in this groove eclectic set.
Born in Brooklyn N.Y. Earl received his very first musical training from his father, Eldon McIntyre, Sr. (a very gifted amateur musician). His father was passionate about music and saw to it that Earl and his brothers became proficient at playing brass instruments thus starting Earl's journey into music. While attending the High School of Music & Art, he studied trombone with trombone greats such as John Clark, Jack Jeffers, Alan Raph and Benny Powell. It was during this period that he also developed relationships with composer William S. Fischer and tubaist Howard Johnson. He then when on to study Bass Trombone at Mannes College of Music with Simone Karasick and tuba with Thompson Hanks. As Earl's thirst for knowledge of music grew, he started studying music arrangement with Slide Hampton and Bob Brookmeyer, as well as, studied privately with the famous brass teacher Carmine Caruso.
Soon after his studies, McIntyre's musical journey flourished as he began playing with the likes of Gil Evans, the Apollo stage band, Charles Mingus, Miles Davis, Taj Mahal, Lester Bowie, The Band, Stevie Wonder, McCoy Tyner, Carla Bley, George Russell, Lou Rawls, Jeffrey Osborne, Deniece Williams, the Count Basie Orchestra, the Ellington Orchestra, the Thad Jones -Mel Lewis Orchestra (with whom he was associated for over 20 years) Slide Hampton, George Gruntz, the Mingus Big Band, Cecil Taylor, David Amram and the list goes on.
While credited for Trombone, Tuba and Arranger on countless award winning albums, Brass Carnival & Tribute!, will be Earl McIntyre's very first offering of his own. When asked about his influences he responded "They say as an artist you spend your career trying to get back to your roots and I guess that's true in my case. The Tribute! band allows me to honor great musicians and family members in my own way. By dedicating and/or naming compositions after these people I hope to ignite the occasional spark of interest in them. Perhaps it's the influence of another hero/employer as well. Charles Mingus did this often and so did Thelonious Monk. The other ensemble, Brass Carnival does the same sort of thing with musical genres but as a larger ensemble." says McIntyre.
Brass Carnival has instrumentation similar to a Salvation Army brass band coupled with Latin percussion. The influence of various kinds of vibrant carnival music colorfully painted on a Jazz canvas. Tribute! is a smaller group that pays tribute to Earl's many influences such as Soca, R&B, Funk and various other grooves.
Brass Carnival & Tribute! will be available via MySpace, CD Baby, iTunes, Amazon, Rhapsody and more.
For more information about the Brass Carnival & Tribute Release or for Media inquiries, contact LegendFactory at info(at)legendfactorylive(dot)com.