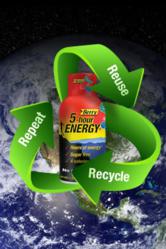 (PRWEB) March 11, 2013
5-hour ENERGY® is celebrating the 43rd anniversary of Earth Day with a new contest that invites its fans to share creative, yet practical ways to reuse empty 5-hour ENERGY® bottles. The Reuse, Recycle, Repeat Contest launches today and ends on April 22, when three lucky winners will be selected to receive a supply of 5-hour ENERGY® and an eco-friendly tumbler!
5-hour ENERGY® cares about the environment, so this contest encourages fans to share ways to reuse empty energy shot bottles for a chance to win free 5-hour ENERGY®. From keeping arts and crafts supplies organized to storing liquids in carry-on luggage, the possibilities of how 5-hour ENERGY® bottles can be repurposed are endless. 5-hour ENERGY® wants to inspire its fans to help protect the environment not only for Earth Day, but year-round by coming up with everyday ways to reuse product waste.
For those struggling to come up with repurposing ideas, 5-hour ENERGY® urges its fans to recycle empty bottles. According to Green Waste, less than one percent of all plastics products are recycled in the United States. In addition, Americans throw away roughly 25,000,000 plastic beverage bottles every hour. Instead of adding to that statistic, make the decision to go green and recycle.
In order to enter the contest, participants can visit 5-hour ENERGY®'s website or Facebook page to fill out the contest entry form. In addition, contestants must submit a photo or video with a description of how 5-hour ENERGY® bottles are reused. Once the contest closes on April 22, one winner will be chosen to win a three month supply of 5-hour ENERGY® and a tumbler.