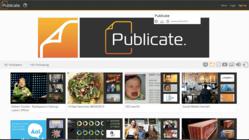 Publicate makes it easy for professionals to showcase their inspirations and expertise
London, UK (PRWEB UK) 11 March 2013
A curation platform designed for professionals to visualize their inspirations and expertise, Publicate aims to give people more value from the content they consume as well as what they create, enabling them to use that content to build their online personality in a very visual and social way. It is targeted at professionals as an extension to their CV or portfolio.
Quick to update and organise, the platform combines functionality from Pinterest, Tumblr and Evernote, to enable professionals to upload, or collect content from anywhere on the web, which can then easily be organised and shared visually, enabling professionals to better promote themselves online through the myriad of content they consume as well as create.
The idea of Publicate came about when Chris Bradley, the founder, experienced the common problem of not having enough time to create content online, but still wanted somewhere that really showcased what he was about professionally. On average global Internet users spend 20 minutes a day finding, consuming and sharing content, only for it to be lost down an overpopulated feed or forgotten in a bookmark or email, resulting in wasted time and wasted knowledge. Publicate aims to provide a simple way for that information to be collected and organised, creating community-driven resources that are more accessible to all, and at the same time helps people to use that content to also build their professional online persona.
Content marketing budget spend in overall budget allocation has increased from 26% in 2011 to 33% in 2012, making it the majority spend for most businesses, it is evidently a growing trend and one that many are keen to perfect, with 91% of marketers implementing content marketing in their strategy. Publicate is lowering the barrier, helping individuals and small brands without large budgets to market themselves more effectively through content, and as a platform aims to bring content marketing to the masses.
The platform has been in beta for 8 weeks now and in that time has already grown over 100%, rapidly reaching 1000 members and climbing. With over 65,000 page views in the last month and an average visit duration of 12 minutes, the development has been focused on evolving based on user feedback, introducing some impressive new features, such as the bookmarklet and browser extensions that make it easy to collect any content with one click, and an integration with Twitter that gives a more visual way to consume your stream, and the stream of others, making it really easy to pull content directly from Twitter into your collections.
The potential for Publicate as a global platform caught the attention of the Ex Financial Director of Tag Heuer and General Manager of Red Bull Media House, who both came on as advisors early on, and the support for the business has only grown with involvement from the Welsh Government through the High Potential Startup Program, and more recently with the announcement of Anastasia Emmanuel as Co-Founder taking up the marketing and comms side of the business.
Publicate is currently at SXSW in Austin to launch the business, meet potential investors, early adopters and have a live-streamed interview with Robert Scoble, today at 10am CST, which is going out on RackspaceTV.
Publicate (http://www.publicate.it) is now looking to expand on it's early success and grow the user base, secure the next round investment in order to expand their team, grow the community and fast track development on its native apps.