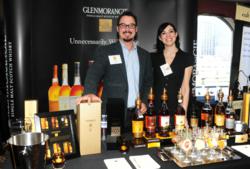 "I'm elated to see the increase in brand participation, as well as the depth and education of the whisky consumer", said Douglas Smith, the Event Director.
San Francisco, CA (PRWEB) March 12, 2013
The Whiskies of the World Expo today released the exciting line up of brands participating at this year's event, which will be held on Saturday, April 6, 2013, on The San Francisco Belle, Hornblower Yacht (docked).
Now in its 14th year, the Whiskies of the World Expo gathers the world's most fascinating distilled spirits along with their makers and ambassadors to give its guests an opportunity to sample, learn and experience the art of whisky. A San Francisco favorite, the Expo is adding new and exciting details to the evening to make sure that this is the event of the year.
From the biggest brand names to small hard to find boutique whiskies, there will be a spirit to suit everyone's taste. In addition to incredible spirits from every corner of the world: as close as California to as far as France, India, Australia and Taiwan, the Expo will also feature seminars conducted by world famous Master Distillers and Brand Ambassadors. Many of the seminars are specially created for this year's event:
Steve Beal (Master of Whisky, Diageo: Single Malts): "Going for the Gold – You be the Judge".
Michael "Mickey" Heads, David Blackmore (Ardbeg): A tale from a Distillery Manager's Taste of View".
Simon Brooking (Laphroaig): "Islay Neònach – Islay Rare".
Ian Chang (King Car Kavalan): "Whisky Making in Exotic Terroir".
Brendan Coyle (High West Distillery): "Whiskies: A Scientific Art".
General Cigars: (Ed Trevino): "Cigars and Whisk(e)y – A Perfect Pairing."
Guests will also enjoy a full buffet dinner, mixology demonstrations, Celtic crafts, whisky pairing with artisanal foods such as premium chocolate, organic jerky, sustainable seafood, handcrafted cheese, and chutney, a live Pipe and Drum Concert and more, including some surprises. In addition, the Expo will allocate the top deck for Cigar and Whisk(e)y pairing-a standing out component of the event.
VIP tickets cost $150 (sold out) and General Admission tickets cost $120. For more information and to purchase tickets, visit http://www.whiskiesoftheworld.com.
Brands Exhibiting are:
WHISK(E)Y
8 Seconds
Bushmills Irish whiskey
Canadian Club
Clontarf Irish whiskey
Collingwood
Corsair Artisan
Craft Distillers
Crown Royal
Greenore Irish whiskey
High West
Irishman
Masterson's
Old Potrero
Pendleton
Revel Stokes
Templeton Rye
SCOTCH AND OTHER MALT WHISKIES
Aberlour
Amrut Indian whisky
AnCnoc
Ardbeg
Ardmore
Balblair
Bastille
BenRiach
Big Peat
Blackadder
Bruichladdich
Cu Dhub
Double Barrel Blended Scotch
Douglas Laing
English Whisky Company
Famous Grouse
Glen Grant
GlenDronach
Glenglassaugh
Glenmorangie
Gordon and MacPhail
Highland Park
Isle of Arran
Isle of Skye
Johnnie Walker
Kilbeggan
Kilchoman
King Car Kavalan Taiwanese Whisky
Knappague
Lagavulin
Laphroaig
Leviathan II
Muirhead's Silver Seal
Nikka Japanese whisky
Oban
Old Pulteney
Royal Thistle
Samaroli
Stalk and Barrel
Sullivans Cove
Talisker
The Glenlivet
The Glenrothes
Tomatin
Tyrconnell
BOURBON
Baker's
Balcones
Basil Hayden's
Booker's
Buck
Bulleit
Clyde May's
Early Times
Four Roses
George Dickel
Hirsch Small Batch Reserve
Jefferson's
Johnny Drum
Knob Creek
Maker's Mark
Noah's Mill
Old Forester
Rowan's Creek
Russell's Reserve
Willett Distillery
Woodford Reserve
ARTISANAL
Bendistillery
Cabin Fever
Frapin Cognac
Hophead
Junipero Gin
King's Ginger Liquor
More about Whiskies of the World LLC
Whiskies of the World is based in California and owned by International Wine & Spirits Competition and Douglas Smith. The first annual Whiskies of the World Expo was held in San Francisco in 1998, and has enjoyed a considerable growth since then. "For the four years I've been running the event, I am elated to see not only the increase in brand participation: about 250 expressions will be presented this year, but also in the variety of whiskies as well as depth and education of the consumer," said Douglas Smith, the Event Director.
For general and press information, contact:
Douglas Smith
Event Director
Phone: (408) 225-0446
cs(at)whiskiesoftheworld(dot)com