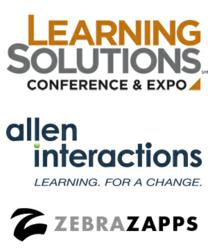 Minneapolis, MN (PRWEB) March 11, 2013
Learning Solutions 2013 is for anyone focused on the management, design, development, and/or distribution of technology-based learning solutions, performance support, or blended solutions incorporating traditional training. The program supports the entire learning team, so regardless of specific roles, this event offers tools, technologies, ideas, strategies, and best practices for maximizing organizational performance.
Here are the sessions Allen Interactions will be presenting at the conference:
The Myths and Realities of Cloud-based Technologies for Learning
Michael Allen, chairman & CEO, Allen Interactions, and Shannon Jackson, manager of engineering, Allen Interactions, will present a session designed to clarify, with minimal techno-speak, what cloud-based technologies are, address myths, talk specifically about what organizations have to do to use the cloud, and enumerate the many advantages the cloud has for learning. Participants will see some powerful examples of cloud-based computing for learning. Managers, instructional designers, developers, and all those responsible for or involved with the delivery of learning solutions should find this session valuable, including those in IT who need to appreciate the needs of the learning community.
Training is Draining but Performance is Priceless
Training is draining … literally. It drains budget, time, resources, and the enthusiasm of the learner. In this session, Lisa Stortz, strategic relationship manager, Allen Interactions, will address how to design and deliver e-learning programs that are more performance-based, rather than just training. Competing for e-learning budgets is much easier when you can show performance results. Participants in this session will learn how to approach learning strategy, design, development, and assessment differently to better achieve performance results.
People Skills through e-Learning? Yes, You Can!
In this case-study session led by Kenneth Gregson, senior director learning and development, AutoNation, and Angel Green, senior instructional strategist, Allen Interactions, participants will learn how a two-day instructor-led training course was transformed into a blended learning curriculum using highly interactive, scenario-based e-learning modules that reduced classroom time by 50 percent. Using the Successive Approximation Model (SAM) for development, Allen Interactions created customer negotiation simulations for AutoNation's sales associates, allowing them the opportunity to practice techniques in a safe environment as often as they needed. AutoNation's business-performance metric outcomes will be shared along with learning about the adoption of the new learning methods by the sales team.
About Allen Interactions
Allen Interactions creates powerful custom learning experiences that help achieve organizational business goals by improving performance one interaction at a time. With 20 years of deep experience and expertise in instructional design, technology, creativity, process, and project management, Allen Interactions consistently achieves positive business impact. In addition to its service offerings Allen Interactions has an awesome new authoring tool, ZebraZapps, which allows developers and non-programmers to create rich interactive media applications easily and quickly, as well as share, publish, and sell objects or entire applications.
About The eLearning Guild
The eLearning Guild is the oldest and most trusted source of information, networking, and community for eLearning Professionals. As a member-driven organization, the Guild produces conferences, online events, e-books, research reports, and Learning Solutions Magazine—all devoted to the idea that the people who know the most about making eLearning successful, are the people who produce eLearning every day in corporate, government, and academic settings. Their goal is to create a place where e-learning professionals can share knowledge, expertise, and ideas to build a better industry—and better learning experiences—for everyone.