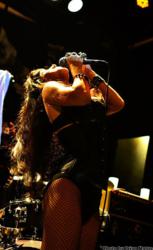 Vajra creates "..a magical piece of atmosphere that has a lot of that Tool sound mixed with space rock." "It's album full of "killer tunes on a disc that's full of them…. quite a cool ride."
New York, NY (PRWEB) March 11, 2013
NYC based Alt-Prog Rock band, Vajra, is getting ready to bring their intoxicating psychedelic-goth creations to Austin for SXSW where they will perform 4 shows, March 13-16.
Before heading down to the Lone Star State, Vajra will provide main support for Bang Tango in NYC. After their return, they'll play a Free show for their fans at Spike Hill in Brooklyn. See the full list of shows below.
Since their first show in November, 2011, interest continues to grow as Vajra's hypnotic sound, rubbery rhythms, and soaring vocals combine rock with Indian strains to create tantalizing and compelling melodies. Harlequins say " it is a sound that is full, saturated, gothic and hypnotic…at the edge of mantra."
Vajra's recently-released debut album 'Pleroma', has garnered notice from music blogs and publications around the globe. Already, the band has secured licensing deals with Viacom Media Networks, The Discovery Network, Showtime and Bravo, and Virgin America accepted one of their singles "Erode The Will" for their In-Flight Entertainment Series.
Clearly, says G.W. Hill of Music Street Journal, Vajra creates "..a magical piece of atmosphere that has a lot of that Tool sound mixed with space rock." "It's album full of "killer tunes on a disc that's full of them…. quite a cool ride."
For more information about Vajra: http://www.facebook.com/vajratemple, http: http://www.twitter.com/vajratemple, http://www.youtube.com/vajratemple
Show Dates:
Monday, March 11, 10pm - Bango Tango (Main Support) @ Tobacco Road NYC (355 W. 41st St, at 9th Ave., New York City, NY (Garment District))
Thursday, March 14, 11:59pm - Spicy Evolution Music Festival @ Darwin's Pub (223 E 6th St Austin, TX 78701-3625)
Friday, March 15
8pm - RedGorilla/Tinderbox Showcase @ The Thirsty Nickel (325 E 6th St, Austin, TX 78701)
10:30pm – Go Girls Music Festival @ Austin Java (1206 Parkway, Austin, TX 78703)
Saturday, March 16, 8:30pm @ Heart of Texas Rockfest Mainstage (7th & Neches, Austin, TX)
Friday, March 29, 9pm @Spike Hill (186 Bedford Ave Brooklyn, NY 11211)
Saturday, April 11 @ The Backstage at Championship Bar (931 Chambers St Trenton, NJ 08611)