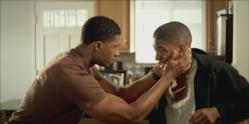 Los Angeles, CA (PRWEB) March 11, 2013
Shorts International has acquired the North American and International rights to Award winning short film Brotherly Love, a drama about bullying and the pressures of gang violence.
Written and directed by Choice Skinner, the film was co-produced by and stars Sheldon A. Smith, Farley Jackson and Skinner.
Brotherly Love tells the story of Isaac (Smith), the youngest of three brothers flees home to inform his older brother Elijah (Jackson) that moments earlier he killed another teen in order to alleviate the daily bullying of a local gang. He pleads with Elijah to help him to figure out a lie and hide the secret from Abraham (Skinner), the eldest brother who is a strict disciplinarian and very religious. Against Elijah's moral code he reluctantly agrees and quickly hides the weapon and Isaac's bloodied shirt as Abraham pulls up in the driveway. Later, Abraham finds the shirt and realizes that Isaac may have been involved in the shooting that he passed earlier on his way home from work. When Abraham begins to threaten and interrogate Isaac about the shooting, tensions mount and old buried secrets are revealed which threaten to tear the brothers apart and destroy their lives forever.
In the coming months, Brotherly Love will be available for viewing through ShortsHD™ & SHORTSTV™ and will screen on television in over 7 Million homes in the US on DirecTV (Channel 568) and AT&T U-verse (Channel 1789).
Shorts International LTD is the world's leading short movie entertainment company with the globe's largest catalogue dedicated to short movies. Since 2007, ShortsTV and ShortsHD have entertained audiences in the US and Europe with some of the best short movies on TV. The networks are carried in the US on DIRECTV and AT&T, in France on Numericable, in Turkey on TTnet's Tivibu service and in Taiwan on Dish Asia.
SHORTSHD™ is also the first high definition channel dedicated to short movies and is available in the US and in Taiwan on DishAsiaHD. SHORTSTV™ is a pay TV channel available in France on Numericable (Channels 134 and 52) and in Turkey on TTNET.