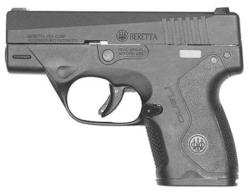 Our goal is to build the best reference for the Beretta Nano.
Spring Hill, FL (PRWEB) March 13, 2013
In uncertain times, people need confidence in the information they are getting - especially when that information could save their life. GunsHolstersAndGear has assembled a comprehensive reference for citizens on a self defense tool that can prove to be invaluable.
More and more people are relying on themselves for personal protection, rather than contracting that out to law enforcement agencies who have no duty to protect any individual citizen.
Sheriffs like Milwaukee County (WI) Sheriff David Clarke JR are encouraging citizens to take up arms in their own defense. Additionally, multiple jurisdictions, such as Kennesaw, GA and Nelson, GA now require, or are considering legislation to require, gun ownership by citizens.
Choosing the tools on which they can depend is critically important. One of the best handguns developed in recent times for concealed carry is the Beretta Nano. Armed citizens recognize this and have purchased the gun in large numbers. But where can those same citizens get information on holsters and other gear for that gun? What about the citizen who has not yet decided on what pistol to buy?
"What we've done is assemble the most comprehensive information on the Beretta Nano and its accessories on the web," said Richard Johnson, the publisher of GunsHolstersAndGear.com and a former law enforcement officer. "You cannot find another one-stop resource of information quite like this elsewhere. We have placed a great emphasis on ensuring the information is accurate and timely so our readers can get what they need quickly."
GunsHolstersAndGear.com is an online information portal for gun news, reviews and encyclopedic reference. The reference page for the Beretta Nano is just one of many entries where readers can get comprehensive information on a firearm or accessory.
"The best part is all of the information is free," said Johnson. "Our revenue comes from blind advertising, meaning we don't have any influence from manufacturers on how we present products. Our only responsibility is to the reader."
The Beretta Nano is a subcompact pistol designed for concealed carry. It offers an extremely reliable striker fired action, a durable polymer frame and an impressive size. Chambered for the 9mm cartridge, the gun has both six and eight round magazines available for it.