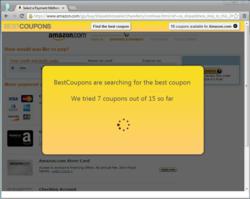 Users install these kinds of coupon auto-apply extensions because they take on the burden of selecting the best coupon available. This makes life much easier for the shopper but means the cash back company is losing out.
Alexandria, VA (PRWEB) March 12, 2013
A study by browser development agency Bessttoolbars has revealed a disturbing new trend for online cash back companies who do not carefully source their cash back browser add-on development tools. Made public today for the first time, the results of the study conclusively show that cash back companies lose part of their revenue each time a user installs a 3rd party add-on together with the company's own cash back add-on.
Having worked with a number of companies in the field, Besttoolbars has developed a reputation for expertise in cash back add-on development. Using this knowledge, its investigation was able to establish that the regular flow of traditional online cash back purchasing is spread over two distinct stages. In the first phase, users go to the merchant's site directly through an affiliate link on the cash back company's website or they install a browser plugin from the cash back company, which turns on an affiliate link when the user gets to the merchant's site. This occurs long before the actual purchase and checkout happens.
In the second phase of this cycle, the shopper browses the merchant's site, adds their desired items to their shopping cart and then proceeds to the checkout page. The checkout page will typically offer the shopper the chance to apply coupon codes to redeem against their purchases. This means that in addition to the existing cash back add-on, users will often also install browser extensions that allow them to automatically apply coupons at the checkout page. These extensions independently insert the coupon code which provides the best discount on the intended purchase. Often these extensions substitute their affiliate link at the moment of the final click. This last action renders the affiliate link inserted by the original cash back plugin, or received by redirection from cash back company's own website, useless.
Valery Kuznetsov, Key Project Manager at Besttoolbars said, "Through the course of our investigation we came to realize that users install these kinds of auto-apply extensions because they take on the burden of selecting the best coupon available. As well as automatically selecting the best deal, they apply it too, which makes life much easier for the shopper. Unfortunately, this means the cash back company is losing out."
To solve this problem, the cash back browser add-on development experts determined that cash back companies must include coupon auto-apply functionality with their own add-ons. This extra functionality means that users do not need to install any additional add-ons to improve their experience and secure the best deal. With only the company's own add-on being used, the cash back brand is assured of the full revenue stream, cutting out the possibility of losing out to third party providers at the moment of checkout.
To find out more about Besttoolbars and its work with cashback browser add-on development please visit http://www.besttoolbars.net.
About Besttoolbars: Besttoolbars is a company well known for creating browser toolbars and add-ons. It has worked with an array of global brands, from start-ups to high-profile Fortune 500 corporations including Amazon, Skype, IBM, DHL, TNT and Intel. More than 7000 companies currently use solutions created on the Besttoolbars platform. Its product line includes:
Toolbar Studio: IDE for designing toolbars for Internet Explorer and Firefox
Add-ons Framework: Framework for building add-ons for Internet Explorer, Firefox, Chrome, Safari, and Opera
Besttoolbars also offers a number of services to help businesses integrate their products with desktops and mobile phones. It provides custom browser development, add-ons, add-ins and mobile app development.