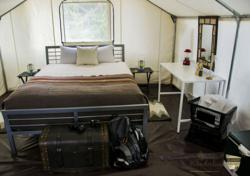 Glamping serves up all the good parts of camping without all the work it'd otherwise take to go play outside.
Friday Harbor, WA (PRWEB) March 13, 2013
The common camping 'escape' isn't always what it's cracked up to be. Scouring the woods, settling on a quasi-comfortable, sorta-sheltered spot and lugging gear and food to it makes everything heavier and far less awesome than planned. Tent wrestling, firewood gathering and flame conjuring will likely round out daily chores, leaving little time for fun.
Get out and enjoy nature? Please. That sounds a lot like work.
From Wanderlust Hospitality comes an inspiring, new way to camp. It's called glamping, or, glamorous camping. Glamping brings the creature comforts of a grand getaway to the great outdoors. Picture a hotel suite meets safari-style canvas tent plunked right into favorite camping spots in the San Juan Islands.
Scott Hale, the Chief Experience Officer of Wanderlust Hospitality, notes that luxury camping is in high demand, saying "Guests want real camping quicker and cushier. Glamping serves up all the good parts of camping without all the work it'd otherwise take to go play outside."
Wanderlust has equipped Camp San Juan sites with a classic canvas wall tent and tasteful furnishings including a cushy queen sized bed and real mattress appointed with luxury linens. Glampers' entire experience will be outfitted and provisioned including breakfast, lunch and a scrumptious dinner prepared on-site with locally sourced ingredients.
Guests looking for adventure will be satiated by guided hikes, guided bike rides and sea kayaking. It's an effortless, authentic way to connect with nature.
Wanderlust Hospitality has set up camp in three different Washington State Parks throughout the summer of 2013. That means summer travelers will have five different chances to get out in style. In addition to super cool digs, each experience includes prime-time and opt-in adventures so glampers can chart their own course - as active or chillaxed as they like.
Glamping sites will be all setup in Moran State Park on Orcas Island for three-night/four-day experiences on these dates:

May 24th – 27th
July 1st – July 4th
July 5th – July 8th
Wanderlust will have glamping sites ready to go for another three-night/four-day experience in Spencer Spit State Park on Lopez Island June 21st – 24th.
2013's last call for glamping will be in Deception Pass State Park on Whidbey Island for a final three-night/four-day adventure August 30th – September 2nd.
For guests unable to join one of the predetermined itineraries, Wanderlust can help setup camp like never seen before – on almost any schedule with Glamping on Demand. Campers who'd rather be glampers simply drop by Camp San Juan to fill out their Glamping on Demand request form.
For more information on these limited edition Washington State glamping experiences, just go to http://www.campsanjuan.com. For more about all things glamping including setting up a glamping venue, drop by the Wanderlust Hospitality Basecamp at http://www.wanderlusthospitality.com.
Keep tabs on both Wanderlust and Camp San Juan via Facebook, Twitter, Pinterest and LinkedIn.
###
High resolution photography available upon request
Media Contact
Scott Hale, Wanderlust Hospitality
info(at)wanderlusthospitality(dot)com
877-589-3226