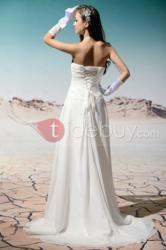 TideBuy has just announced 741 new items of mother of the bride dresses to its product line.
(PRWEB) March 15, 2013
TideBuy, a leading wedding dresses store, has just announced its new arrivals, "Mother of The Bride Dresses". According to Edmond Liu, senior marketing manager of the company, they will launch fresh products and designs weekly to enrich their product line.
There are 741 items in this new collection, and these new dresses come in various designs and colors. Ladies can find many hot styles there: A-line dresses, V-neck lace dresses, pleated dresses, and, etc.
All the dresses from TideBuy have these several characteristics: rich choices, fine tailoring, meticulous production and effective transport services. TideBuy is ready to help its customers to grab the spotlight with their elegant outfits. Edmond Liu states, "Our new dresses are available now at reasonable prices, and ladies can own their dresses by spending little money."
In addition, TideBuy is offering hefty discounts on its women's dresses, like vintage prom dresses, elegant bridesmaid dresses, beautiful evening dresses, and more. Furthermore, custom dresses are available at TideBuy.com.
About TideBuy.com
TideBuy.com is providing thousands of stylish wedding dresses and other special-occasion dresses at acceptable prices. Their products include wedding dresses, cocktail dresses, prom dresses, and more. The company has promised to provide customers quality wedding dresses with fast delivery.
More information can be found at:
http://www.tidebuy.com/?utm_source=content&utm_medium=news&utm_campaign=index