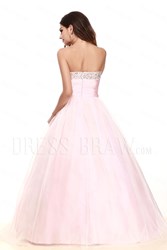 Recently, DressBraw.com has released its new collection of Cheap Prom Dresses 2013.
(PRWEB) March 14, 2013
DressBraw is a professional manufacturer and retailer of wedding dresses and also other special-occasion dresses. Recently, this firm has released its new collection of Cheap Prom Dresses 2013, which is now available at discount prices also.
The women's dresses from DressBraw are well-known for their characteristics: high-quality fabrics, exquisite embroidery, fine sparkling beads, proper ruching, nice-looking appliques, and, etc. There is no exception this time for these new dresses, which includes the latest prom dress trends in 2013, such as little black prom dresses, printed prom dresses, and lace prom dresses, and, etc. DressBraw hopes to use its vast knowledge of consumer needs and craftsmanship to enhance and personalize customers' purchasing experience.
"We offer the newest trends in town, so we are able to completely assure you of looking excellent and equally beautiful as that lady who's now walking down the aisle," said, a spokesman for the company. "Customers' satisfaction is our long-term pursuit and upmost concern,"
Additionally, DressBraw provides heavy discounts on other collections of special-occasion dresses, like evening dresses 2013 collection, and others. No matter elegant plus size evening dresses or sexy prom dresses, DressBraw.com has something for their clients.
About DressBraw.com
DressBraw.com is one of the leading suppliers of wedding & special occasion dresses from China. They aim to provide high quality apparels at the lowest possible prices. Their strict quality control, low rates and amiable customer services have made them one of the leading brands worldwide.
More information can be found at:
http://www.dressbraw.com/?utm_source=content&utm_medium=news&utm_campaign=index
Office Hours: Monday to Friday-9:00 AM to 6:00 PM (GMT +08:00)