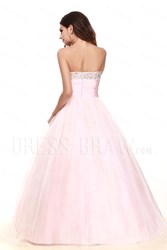 We have recently announced the new evening dresses 2013 collection.
(PRWEB) March 19, 2013
DressBraw, a popular brand for women's special-occasion clothes, has recently announced its new evening dresses 2013 collection, which comes with 2013 new fashion trends, such as printed evening dresses, little black evening dresses, and lace evening dresses, etc.
The new collection consists of more than 1000 elegant evening dresses in a variety of colors and styles, including plus size evening dresses. The elite design team from DressBraw has embedded the newest trends in this assortment, and all these dresses are featured with high-quality fabrics, fine sparkling beads, exquisite embroidery, proper ruching, and nice-looking appliques.
"We have been always offering the latest trends in town. Now, our new evening dresses are available at discount prices," says, Mr. Liu. "Buying top-quality women's dresses from DressBraw is a pleasant shopping experience. We focus on the quality and styles, with an emphasis on evening dresses. It is vital to celebrate the beauty of the female figure instead of covering it up."
Besides evening dresses, DressBraw is providing hefty discount rates on its collections of women's dresses, which consist of typical wedding dresses, beautiful bridesmaid dresses, classy cocktail dresses, and more. The company's mission is to "help women enjoy the life" by offering stylish and high-quality women dresses to each customer.
The spokesman adds that they will launch new designs and products weekly to expand their product line. The people who have an interest may keep an eye on DressBraw.
About DressBraw.com
Based in China, DressBraw specializes in wedding dresses and special occasion dresses for women. The company's goal is to provide high quality dresses with low prices. Their strict quality control, low rates and amiable customer services have made them one of the leading brands worldwide.
More information can be found at:
http://www.dressbraw.com/?utm_source=content&utm_medium=news&utm_campaign=index
Office Hours: Monday to Friday-9:00 AM to 6:00 PM (GMT +08:00)