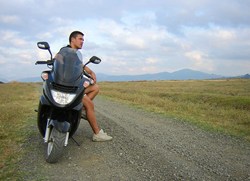 Tiger.co.uk has one of the largest bike insurance panels
(PRWEB UK) 11 March 2013
Motorcycle owners or enthusiasts will be aware that winter is drawing to an end. With spring around the corner the time has nearly come to take the motorbike out of winter storage and onto the open road. With this in mind Tiger.co.uk has released a guide to prepare riders for the new biking season.
Tiger.co.uk has one of the largest bike insurance panels, they feature over 35 insurance brands for their shopper to compare and get the best deals. Tiger.co.uk are encouraging all motorcyclist's to carry out important checks to ensure that their bikes are working correctly after being stored away for the winter period.
The website has been developing guide content for some time to offer its shoppers support when researching and purchasing motor insurance and other financial products. There are often questions that shoppers searching for motorbike insurance need to resolve that are not necessarily directly related to insurance but is more general motoring information.
Andrew Goulborn, Commercial Director for car insurance comparison site Tiger.co.uk, commented: "The addition of a Guide to Prepare Riders for the Biking Season is part of our continued commitment to offer our shoppers more than just the ability to compare bike insurance quotes and we will continue to add more guides over the coming year. Having listened to shopper feedback, we thought that this type of additional information would be welcomed. Visitors to the site can access all of this under the "Iinfo" area of the site, which is linked at the top right of the homepage."
About http://www.tiger.co.uk:
Tiger.co.uk is a trading name of Call Connection Ltd. Tiger.co.uk is a UK based, independent motor insurance comparison site, offering insurance quotes from over 150 insurance brands. Call Connection Ltd is authorised and regulated by the Financial Services Authority (number 308374).