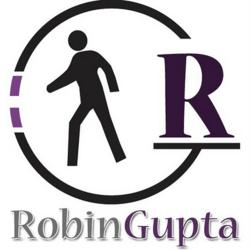 Result Oriented Authority Link Building!
Sri Ganganagar, Rajasthan (PRWEB) March 12, 2013
Robin Gupta has launched result-oriented authority link building services to help the website owners who have spent thousands of dollars on SEO, but haven't got satisfying results from various online marketing agencies in past.
Robin Gupta has gained good reputation of deliver organic SEO services to customers across the globe since 2007, and his company has now launched authority link building packages to help those whose websites have been wiped out by Google Penguin update.
Check out the result-oriented authority link building packages introduced by Robin here.
These result-oriented packages include powerful backlinks from authoritative sources like EzineArticles, Hubpages, Squidoo, ArticlesBase, as well as high traffic social networking, and bookmarking sites like Facebook, Twitter, LinkedIn, Delicious, StumbleUpon etc.
As a part of the service, Press Release distribution to premium sites like SBWire, and PRLog are also included. Robin also offers specialized guest posting service separately, but these authority link building also include guest posts too.
Robin Gupta told the media spokesperson – "Google updates have simply caused Mayhem, and website owners are paying through their nose to inexperienced SEO professionals, hoping that they'll produce some great results. However, in reality, they end up doing even more harm to their website, by purchasing low quality links, posing a higher threat of Penguin penalty."
These advanced back-links packages also include video marketing, niche blog posting, slide sharing, as well as .edu profile backlinks, which truly diversify the link profile of any website.
Robin also explained that these packages are designed to deliver high ROI to the clients, and was quoted as saying – "Most of the SEO agencies don't deliver targeted traffic, and work on building bulk links, which can actually be detrimental to the online reputation of a website, given the current situation."
Additionally, some of the backlinks don't tend to produce any positive impact because they do not get indexed immediately by the search engines bot. Explaining the importance of link indexing, Robin commented – "If your website links don't get indexed, they're simply worthless in terms of ROI; our packages also include tier-II backlinks, and our team creates 2 social bookmarks for each tier-1 backlink to help them get indexed faster."
Robin invites all the website owners to take a look at their latest result-oriented link building packages, and give them a try without any risk, as his company promises 100% money-back guarantee within 30-days, in case of any dissatisfaction.
About RobinGupta.co
RobinGupta.co is a leading online marketing, and back-link building agency based in India that has got over 1000 satisfied customers in its portfolio.
This SEO firm provides advanced search engine optimization, Press Release distribution, as well as other forms of link building services to help the website owners fight the wrath of Google Penguin algorithm.
Looking at the demand for result-oriented services in SEO industry, Robin has launched result-oriented authority backlink building services with 100% money-back assurance.
To take a look at their latest SEO packages, and other online marketing services log on to http://www.robingupta.co