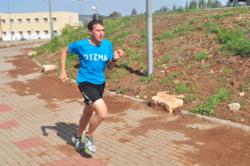 (PRWEB) March 11, 2013
Marc Hendel, a south Florida native and recent graduate of Washington University in St. Louis, will soon attempt to become the first American to run the full length of Israel in nine days – from Rosh HaNikra, near the Lebanon border, to Eilat, the Red Sea port at Israel's southernmost tip. Hendel is running to raise money and awareness for Big Brothers Big Sisters of Eastern Missouri and for Youth Futures, a Jewish Agency for Israel-sponsored mentorship program that assists at-risk children throughout the Jewish state.
The 23-year-old will begin his nine-day, 470-kilometer Strengthening Bonds Run on Tuesday, March 12. He is currently in Israel as a volunteer on Project Otzma, a 10-month community service program sponsored by MASA Israel Journey, a joint-venture of The Jewish Agency for Israel and the Israeli government.
Over the course of his Otzma volunteer year, Hendel worked as an English teacher in an elementary school in Karmiel, a socio-economically disadvantaged town in Israel's North. While in Karmiel, Hendel formed a running club to promote diversity among the city's immigrant population. Hendel then went to Netivot, near the Gaza border, to volunteer with the Youth Futures mentorship program.
While in Netivot, a sister city of Philadelphia's Jewish community through The Jewish Agency's Partership2Gether initiative, Hendel built on his Karmiel success and organized the Run Together for Netivot 5K to raise money for local, grassroots programs.
Not satisfied with local exposure, Hendel decided to go big –to run the length of Israel and generate excitement, buzz and donations along the way.
"My goals for this run are two-fold," Hendel said. "First, I want to strengthen bonds between Israel and American Jews and also to strengthen bonds between children and their mentors. Both of these mentor organizations are near and dear to my heart. I am also running to highlight Partnership2Gether and the 45 partnerships between Jewish communities around the world and Israeli towns. We are one global family, and these partnerships are essential to a secure future for the Jewish people."
Hendel and his support team have launched a website http://www.RunIsrael.org. There visitors can make donations to Youth Futures or Big Brothers Big Sisters in Hendel's honor. Hendel and his crew will be updating the site daily with photos, blog posts and videos and will map his progress southward. This will be Hendel's first ultra-marathon, but he remains confident.
"With the support of my fellow Otzma volunteers, I am sure I'll complete the run," Hendel said. "Also, when people donate, I get an extra boost, knowing that every step I take helps these wonderful children get the mentors they deserve."