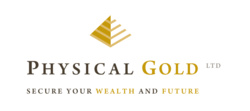 We've seen gold prices rise dramatically and twelve years of gains from the commodity.
(PRWEB UK) 11 March 2013
Gold prices were up on Monday, amid speculation that the US Federal Reserve will continue monetary stimulus through 2013, supporting the precious metal.
Wall Street expects the Federal Reserve to continue its bond buying programme despite better than expected US jobs data last week and the jobless rate at a four year low.
Gold is expected to strengthen amid concerns about the strength of the US recovery and expectations of aggressive monetary easing from the Bank of Japan.
Spot gold edged up 0.3% to $1.582.11 an ounce on Monday.
Gold has fared well from previous bouts of monetary easing from the US and key economies as investors seek a hedge against rising inflation amid government cash printing.
A spokesperson from Physical Gold said:
"Gold has done impressively well over the past few years off the back of monetary easing from some of the world's key economies, particularly the US. We've seen gold prices rise dramatically and twelve years of gains from the commodity. With money printing increasing inflation, investors are turning to gold investment to protect the value of their money."
Physical Gold Ltd is a leading UK gold dealer, helping investors diversify their portfolios with innovative investment solutions. Renowned for their ground breaking products such as the Sipp gold and Gold Accumulation Account, the firm specialise in providing customers with tailored assistance in sourcing the best gold for their personal requirements. Based in London, the team are BNTA accredited and have an unrivalled knowledge of the gold market as well as an exceptional understanding of the general financial markets.