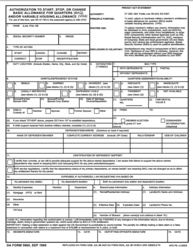 Laws.com added DA Form 5960 to its free legal form download section. The form can be downloaded in printer friendly format.
New York, NY (PRWEB) March 11, 2013
Laws.com launches DA 5960 Authorization to Start, Stop, or Change Basic Allowance for Quarters form. Form 5960 is used for basic allowance structure for quarters of Army personals. The DA form 5960 can be used for various housing allowances. This form is used as a means of changing the pay record of a military personal. This can be due to multifarious factors.
DA Form 5960 Availability:
Like any other Defense forms, the DA form 5960 is available on the website of United States Army documentation or can be supplied through the chain of command. The form can also be downloaded from laws.com DA Form 5960 Basic Allowance for Quarters page
Filling DA form 5960
As narrated in many of the Defense forms, DA form 5960 has boxes to furnish the required details.
Pages one to three requires all the basic information of identification and this is the first phase of starting with the form. Specify the name, rank and the social security number.
The following box no 8 demands the details of your marital and dependency position, and this is inclusive of all existing and previous marriages and dependent children. In case, your spouse or former spouse happens to be a military personal, their details have to be furnished in box number 8 sections 1, 2 and 3.
The type of quarters you aspire to move in has to be indicated in box number 9.
A military personal of grade E7 and above has the liberty to choose their quarter's information, or else a commanding officer is designated to take a decision and attach the proper forms.
In case of any dependents staying, along furnishing, their details will be very much compulsory and these details should be accommodated in boxes 10 and 11. If additional space becomes necessary, you can make use of the backside of DA form 5960 to note down details of additional dependents in box number 10.
Box number 12 is for the information pertaining to the applicant monthly expenditure and the monthly expenses of dependents if any (who are not residing with you at present).
Note down your present mortgage, insurance and monthly liabilities. If applicant is living in quarters for rent, include the contact details for the landlord of the property and the correct address of the location.
In conclusion, the requesting Army member and any commanding officer must sign at the bottom part of the form, certifying the DA form 5960. As in most cases, keep a copy for any sort of future reference and submit the original to the concerned authority.
Laws.com offers all the assistance related to the filling of the legal forms. Laws.com has DA form 5960 video guide facility to make the procedure smooth and easy.