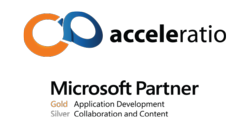 It is our continuous mission to further enhance our products to help our customers meet their business challenges.
Zagreb, Croatia (PRWEB) March 12, 2013
Acceleratio Ltd., today announced it has achieved a Gold Application Development competency and a Silver Collaboration and Content competency, demonstrating a "best-in-class" ability and commitment to meet Microsoft Corp. customers' evolving needs in today's dynamic business environment and distinguishing itself within the top 1 percent of Microsoft's partner ecosystem. A portfolio of competencies showcases that Acceleratio Ltd. is committed to focusing on in-demand, business solution areas, along with ensuring it can meet the evolving needs of customers because of market changes.
To earn a Microsoft competency, partners must successfully complete exams (resulting in Microsoft Certified Professionals) to prove their level of technology expertise and, for gold competencies, designate these certified professionals uniquely to one Microsoft competency, ensuring a certain level of staffing capacity. Partners must also submit customer references that demonstrate successful projects and pass technology and/or sales assessments. For gold competencies, partners must also implement a yearly customer satisfaction study and, for many competencies, meet a revenue commitment.
"These Microsoft competencies demonstrate our strong commitment to delivering high quality applications for our customers." said Toni Frankola, Acceleratio CEO. "It is our continuous mission to further enhance our products to help our customers meet their business challenges."
Acceleratio Ltd. provides consulting and specializes in developing high quality applications that make daily tasks easier and save time for SharePoint, Microsoft Windows Remote Desktop Services and Citrix admins across the globe, while increasing productivity through innovative software.
"By achieving a portfolio of competencies, partners demonstrate deep expertise and consistent capability on the latest Microsoft technology," said Jon Roskill, corporate vice president, Worldwide Partner Group at Microsoft Corp. "These partners show true commitment to meeting customer technology needs today and into the future."
All 28 Microsoft technology competencies differentiate a partner's specific technology capabilities, helping customers find qualified solution providers with expertise in discrete areas quickly and easily.
Earning the Microsoft Application Development competency helps partners differentiate themselves as a trusted expert to their customers through development and deployment of commercial or custom applications built using core Microsoft technologies like Windows Server and Windows 8 operating systems, the Windows Azure platform, Microsoft Visual Studio 2012 development system, Microsoft BizTalk Server and emerging cloud-based and web business models.
Attaining the Microsoft Collaboration and Content competency demonstrates partner expertise in offering Microsoft SharePoint technology based solutions to customers that meet organizational collaboration and content needs, help customers maximize efficiencies and take advantage of opportunities, such as business value consulting, change management, architectural design, digital asset management, and Web design and development, all of which can help develop a more profitable business.
The Microsoft Partner Network helps partners strengthen their capabilities to showcase leadership in the marketplace on the latest technology, to better serve customers and, with 640,000 Microsoft partners in their ecosystem, to easily connect with one of the most active, diverse networks in the world.
About Acceleratio Ltd.
Acceleratio is a software development company, founded in 2008, based in Zagreb, Croatia, Europe and Ronkonkoma, New York. We develop applications which are designed to save time, improve access to information and give a complete overview of server environment at any moment. Documentation Toolkit for SharePoint is designed to help administrators and consultants to create a professional looking SharePoint documentation in few minutes. It is also possible to compare farms or track configuration changes. For those who need a powerful monitoring and reporting tool we developed Terminal Services Log that allows to easily monitor user activities on Microsoft Windows Remote Desktop Services and Citrix XenApp server or farm. This application is also useful for tracking application usage, provides performance monitoring, checking license compliance and much more. We are proud that our products are used by more than 800 companies worldwide on thousands of servers.
###