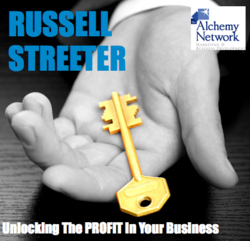 Far too many businesses today are being held back by one-dimensional thinking and set-in-stone practices.
Fareham, Hampshire (PRWEB UK) 12 March 2013
Consumers, whether they are individuals or other businesses, are bombarded with hundreds of commercial messages every day, on the radio and TV, newspaper and even Facebook and Linked In.
With all this commercial noise, businesses face a tough time getting their message to be heard by their target market.
Small businesses seem especially vulnerable, as they lack the resources that the bigger players have to invest in advertising and promotion.
However, marketing can be a great equalizer, as most businesses are using more or less the same methods of attracting customers and selling to them.
The companies that work their marketing strategies best tend to have the best level of profit and success.
So says Russell Streeter, Business Growth Specialist and Partner of the Alchemy Network.
"Far too many businesses today are being held back by one-dimensional thinking and set-in-stone practices that may help 'stay the course' and play it safe, but never really let an enterprise blossom and thrive."
He insists that the most important marketing strategies are not necessarily expensive and can be utilised by even the smallest of businesses.
To demonstrate this to entrepreneurs and small business owners in Hampshire, Russell has made "How To Get More Customers" the topic of his March Business Growth Meeting.
During this 2 hour 'hands-on' workshop, Russell will show attendees:

How to unlock core business building strategies with principles that are relevant to nearly any business, of any size.
How to calculate the lifetime value of a customer.
What the acronym AICDA stands for and how it can help a business to get noticed.
Why Niche Marketing is so important.
These meetings are held at the Arena Business Centre in Fareham and date for the March meeting is Wednesday the 27th, from 8:30 to 10:30 am. The cost to attend is £29.97 plus VAT, and Russell provides a full money-back guarantee.
"I want you to come out of this workshop fired up and bursting to transform the way you market your business. If at the end of these 2 hours jam packed full of business building ideas you do not feel that they will work for you in your business I will give you a full 100% refund of the price you paid – no questions, no quibbles. I can't say fairer than that."
For more information, please visit Russell's website, or call or email his office.