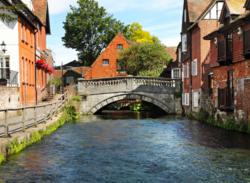 The rise in net company growth for the third year running is a promising sign of future prosperity for businesses in the area
Winchester, Hampshire (PRWEB UK) 26 March 2013
Last year the company register in Winchester increased by 251, representing growth of 44%.
2012 was the third year running in which net company growth rose in the city, after a slump to minus 19 at the height of the recession in 2009. However, company formation actually fell slightly over the course of the year, from 561 in 2011, to 558 in 2012.
The local authority runs a range of schemes to help encourage new business in the city. These include a "Meet the Buyers" day, which last year generated £6.25 million in deals during one day. There are also free business seminars available and a Micro-Business Development Grant Pilot Scheme, which is a one-off payment to help support and develop small business.
Managing Director of Duport.co.uk, Peter Valaitis commented:
"Winchester is a charming place with great links to central London and an affluent population - all things which should help buoy the local economy in these difficult times.
"The rise in net company growth for the third year running is a promising sign of future prosperity for businesses in the area."
The Duport Business Confidence Report for Winchester provides accurate data that can be used to gain an insight into the local business economy. More information and statistics can be found at http://www.duport.co.uk/winchester.
Duport Business Confidence Reports are generated and released by Duport Associates Ltd. The data contained in these reports is assimilated and analysed by Duport using public record data from sources including Companies House, Office for National Statistics and Ordnance Survey. Duport Associates Ltd is a leading UK company formation agent, established in 1997 and registering around 10,000 new companies each year through its Companies House approved software.