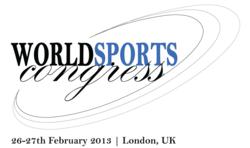 It's an IRN Summit!
(PRWEB UK) 12 March 2013
The two-day Congress which launched at the 5* Churchill Hyatt Regency Hotel in London addressed the challenges of financing, planning, designing and constructing sporting infrastructure as well as looking at the issues which arise when working internationally.
Specific highlights from the Congress included the 'Finance Forum' with Henk Markerink of Amsterdam Arena and Richard Cheesman of International Stadia Group (ISG), moderated by Michael Cunnah from iSportConnect. They discussed different strategies for financing large infrastructure projects and emphasised how important it is that every stadium should be looked at as an individual project and the business model should reflect this in light of the short and long term plans. Markerink also stated; "A stadium is like an aeroplane; you should fly as much as possible" indicating that initial investment into a stadium is almost always a loss and it is important to identify different revenue streams and plans for multi-functionality to maximise the long term ROI.
Another key session from the Congress was the 'Legacy Leaders' panel discussion. Participants included Bahrain International Circuit, Manchester City Council and Lee Valley Regional Park, moderated by the Chairman of the event, Mark Pannes of AS Roma. The session looked at the legacy requirements of three major sporting events including the Commonwealth Games 2002, the Grand Prix 2006 and the Summer Olympics 2012 providing a diverse range of events and dates. This allowed different perspectives from the events to be covered such as activating and renovating facilities post-event, the investment required for these facilities, getting the pricing strategy correct for the surrounding community and ensuring that security measures are planned at the outset.
The 'Design, Construction and Maintenance' section of the second day featured Paul May of LOCOG who discussed the importance of collaboration when planning and constructing a large number of permanent and temporary facilities for a major event. He led the delegation through the '3 phase approach' which was applied over a seven year time period for the most recent Olympic Games in London. One of the key messages he portrayed was ensuring the right team were in place and that "…it is about having ability and willingness to spend money where it needs to be spent."
IRN is currently developing the next edition of the World Sports Congress focusing on sports technology. This will take place in Geneva, Switzerland on 18th-19th June 2013 and will focus on exploring different technological capabilities in sport in order to enhance the fan experience. Visit the website for further details.