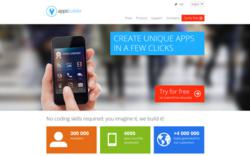 We are very proud of the collaboration with such an eminent player like BlackBerry
(PRWEB) March 13, 2013
The innovative start-up AppsBuilder, which launched a cloud-publishing tool to create cross-platform native apps with no coding skills, has just announced a special project: as of today, all users who log into AppsBuilder will be able to create native apps for BlackBerry® 10 for free and get them published on the BlackBerry® World™ storefront.
With the release of the BlackBerry® Z10 and the upcoming release of the BlackBerry® Q10 smartphones making headlines across the globe, along with a robust content store focused on delivering visually rich, relevant and top-notch applications, games and more, the BlackBerry 10 platform represents an opportunity for all app developers to increase their applications' popularity and gain new revenue streams.
As a result, by launching support for creating BlackBerry 10 native apps, AppsBuilder is both expanding its range of supported operating systems (iOS, Android, Windows and HTML 5) and offering its entire community the opportunity to join one of the most profitable marketplaces for app developers currently available.
To celebrate this special project, AppsBuilder will offer all its registered users the exceptional opportunity to develop their applications for free and publish them on BlackBerry World, upon activation of their own BlackBerry vendor account.
On being asked about this project, Daniele Pelleri, CEO and Co-founder of AppsBuilder said:
"We are very proud of the collaboration with such an eminent player like BlackBerry. As shown by Vision Mobile's latest statistics, BlackBerry World is a very profitable marketplace with apps bringing in an average of $3,853 of revenue per month, which represents a great opportunity for developers."
BlackBerry and related trademarks, names and logos are the property of Research In Motion Limited.