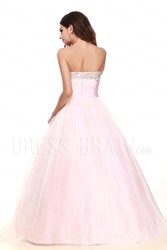 DressBraw.com has lately announced their prom dresses at new low prices.
(PRWEB) March 15, 2013
DressBraw.com has lately announced their prom dresses at new low prices, and they would launch promotions from time to time to make their cheap prom dresses with premium quality available for more shoppers worldwide.
The prom dresses in this collection (available in 12 colors: yellow, blue, purple, and so on) are designed in various types of vintage or attractive designs, and featured with these characteristics: rich fabrics, fine tailoring, and meticulous production. The organization believes that offering the discounted prom dresses will assist to expand its client base, also the new low prices would attract more clients to browse through their website.
Edmond Liu, CEO of DressBraw, stated, "We are providing a unique collection of gorgeous prom dresses, which will let you leave an elegant impression to folks. It is a wise to buy your prom dresses from an expert supplier. In addition, we have more than 10 years experience inside the wedding dress market, and high quality and the most up-to-date styles are the most important variables DressBraw seeks when developing new dresses."
Additionally, DressBraw is providing hefty discount prices on its line of women's dresses, which consist of attractive wedding dresses, wonderful bridesmaid dresses, elegant plus size evening dresses, and more. Furthermore, customized dresses are also offered at DressBraw.com.
DressBraw.com is a China based online retailer which specializes in women wedding outfits and women special occasion dresses. The company operates in 230 countries worldwide and has won the approval of its many customers in a short span of time.
For more information, please visit: http://www.dressbraw.com/?utm_source=content&utm_medium=news&utm_campaign=index.
Office Hours: Monday to Friday-9:00 AM to 6:00 PM (GMT +08:00)