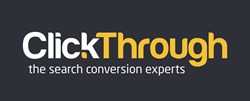 We're proud to be working alongside Gtech and look forward to helping them drive online success in 2013
(PRWEB UK) 12 March 2013
Digital agency ClickThrough Marketing is celebrating a new client win after innovative British company Gtech signed up for PPC management and online PR services.
Gtech boasts a huge range of cordless vacuum cleaners, cordless power sweepers and cordless garden tools.
Its flagship product, the Gtech AirRAM, has won rave reviews - gaining approval from the Good Housekeeping Institute and wowing a Daily Mail critic with a 10/10 review.
The AirRAM has a host of unique features – including accompanying computer software which shows how many calories a user has burned whilst cleaning their home.
The AirRAM doesn't feature a traditional bag or a cylinder like most vacuum cleaners: instead it condenses everything into neat bales in the head of the vacuum.
It's lightweight at only 3.5kg, and the efficient AirRAM system means it only uses a fraction of the electricity of mains-powered vacuum cleaners whilst still delivering powerful cleaning.
Independent tests show it also actually picks up more dirt than a number of leading vacuums.
Customers can expect to save up to £200 over five years by swapping to an AirRAM cordless vacuum cleaner: meaning the item pretty much pays for itself.
Alongside the AirRAM, Gtech produces rechargeable, cordless floor sweepers, including the world's first powered cordless sweeper, the SW01 (now the SW02).
After successfully launching the AirRAM to critical acclaim in April 2012, Gtech is building on its strong start with an Internet marketing campaign designed to drive sales and awareness.
"We spent some time chatting to ClickThrough about what we want for Gtech, and how we want to achieve it: and were impressed at how quickly they were able to understand our business needs," said David Butlin, CRM marketing manager at Gtech.
"We are really looking forward to working with ClickThrough's PPC team to improve our paid search campaigns, whilst their online PR team will be able to help us gain more visibility across the web."
ClickThrough's commercial director, Phil Robinson, said he was delighted to welcome Gtech as a new client.
"ClickThrough is looking to build in 2013, and we're delighted when clients like Gtech – a big, innovative, forward-thinking company – choose to work with us. We are results-driven, committed to innovation and technology, and are a trusted digital marketing agency for some of big UK names like Peugeot, ScottishPower and Dunelm Mill.
"We're proud to be working alongside Gtech and look forward to helping them drive online success in 2013."
ENDS
Notes to editors:
For more information, please contact: Ali Harris, head of content at ClickThrough Marketing. Call +44 (0)1543 410 014 or email aharris(at)clickthrough-marketing(dot)com
About Gtech:
For more than a decade, Gtech has pushed the boundaries of cordless innovation. The company creates a range of cordless floor cleaners with unique features, like the AirRAM's calorie-burner app, alongside powerful cordless garden products. The AirRAM, launched in 2012, has quickly become one of the UK's most popular cordless vacuum cleaners. Approved by the Good Housekeeping Institute, the AirRAM has gained positive reviews from Which? and the Daily Mail.
About ClickThrough Marketing:
Based in Lichfield, Staffs, ClickThrough Marketing aims to be Europe's No.1 digital marketing agency. Since 2003, the company has helped clients in the UK and abroad get to grips with online marketing, including SEO, PPC, content, online PR and web design. A trusted agency, ClickThrough is committed to providing clients with the best in results, innovation and excellence. ClickThrough is included on the Recommended Agencies Register and is regularly featured as one of the world's top linkbuilding and reputation management agencies by independent authority topseos.com