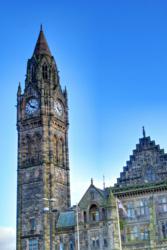 The rise in company formation suggests that business start-ups see the area as a good place to set up, which is another positive sign for the local economy
Rochdale, Greater Manchester (PRWEB UK) 27 March 2013
New research from company formation specialists, Duport.co.uk reveals there were a record number of new company formations in Rochdale last year.
Over the course of the year, there were 663 new companies formed - more than any other year in the history of the town. 2012 is the second year running in which company formations have risen in the area.
Net company growth also rose last year, with the company register increasing by 259, compared to 240 in 2011, and 82 in 2010. This rise could be due to ongoing regeneration of the town centre attracting new businesses. Recently completed projects include a new tram link to Manchester city centre and Number One Riverside, which will contain a new library, customer information point and council offices, as well as retail and leisure facilities.
Managing Director of Duport.co.uk, Peter Valaitis said:
"With all the regeneration projects going on, Rochdale looks set for an exciting period of change. The rise in company formation suggests that business start-ups see the area as a good place to set up, which is another positive sign for the local economy."
The Duport Business Confidence Report for Rochdale uses economic data to give a snapshot of the local business landscape. More information and statistics can be found at http://www.duport.co.uk/rochdale.
Duport Business Confidence Reports are generated and released by Duport Associates Ltd. The data contained in these reports is assimilated and analysed by Duport using public record data from sources including Companies House, Office for National Statistics and Ordnance Survey. Duport Associates Ltd is a leading UK company formation agent, established in 1997 and registering around 10,000 new companies each year through its Companies House approved software.