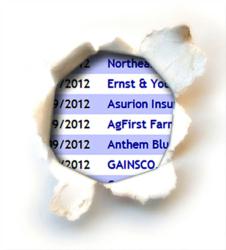 (PRWEB) March 13, 2013
CoTracer, as their name suggests, traces and identifies actual companies live from web site traffic. This differs from ordinary web site statistics such as Google Analytics. CoTracer yields an actual list of company names listed by date.
Getting hold of this information is as simple as businesses signing up with CoTracer for an account, installing a one-line tracking code into their web pages – similar to many web-based services and plugins these days, and logging in to CoTracer's web-based user interface to see who has been looking at their site.
The march of technology coupled with ever harsher economic conditions have forced businesses to find new ways to get back to basic growth. The rise in relationship building has brought with it social networking and other initiatives. In an effort to avoid waste and inefficiency, businesses are turning to their own daily web traffic to identify and respond to interest.
The big difference here is a focus on sales leads for real business people. Whereas users of traditional web analytics packages have for a long time resigned themselves to the limitations of faceless statistics. As good as that information gets, page-view graphs and bounce rates have failed to deliver new sales on the ground.
Matthew Raynor of Raynor Foods, a leading sandwich manufacturer, explains the difference. "Normal web-stats didn't go far enough for us. We really need to know who these visitors are." Clearly for businesses like these who thrive on relationships with their clients, more is required from having a web site than just showcasing information. By identifying new and existing clients, Raynors report success with this new approach. "Now CoTracer provides us with the answers we need as a constant stream of highly useful data."
Alan Wheal, of CoTracer explains the need for building relationships as the bedrock of business growth, "It makes no sense to ignore your web site visitors. You need the insight to know who they are, what they are showing interest in and how to respond and help them. If you don't, others will."
Beyond just new sales leads, other applications of this service can include identifying when competitors are visiting as well as measuring the real effectiveness of Google Adwords.