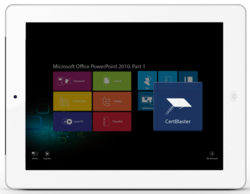 Through one centralized location, students now have access to course content and resources in multiple formats.
Rochester, NY (PRWEB) March 12, 2013
Logical Operations today announced a new strategic partnership with dti Publishing that provides training organizations worldwide an integration between dti Publishing's CertBlaster exam preparation solution and Logical Operations' LogicalCHOICE instructor-led training digital learning platform.
CertBlaster is a powerful testing engine that provides students with hundreds of practice exam questions on topics ranging from Microsoft and CompTIA Information Technology certifications to popular end-user certifications such as Microsoft, Adobe, and the Project Management Institute (among others). With CertBlaster, students accessing their curriculum through the LogicalCHOICE platform now have the ability to review practice questions relating to particular exam objectives, customize the question count and timing for practice exams, and take simulated exams that generate a Personal Testing Plan (PTP) for more targeted preparation. CertBlaster ensures students are adequately equipped to achieve industry certification before investing in a live exam.
"Provisioning access to CertBlaster directly through the LogicalCHOICE digital learning platform helps our customers provide their students with an instructor-led training experience that is meaningful and incredibly impactful to their professional development," said Bill Rosenthal, CEO of Logical Operations. "Through one centralized location, students now have access to course content and resources in multiple formats (eBook, video, social learning, procedure reference, and much more) as well as the ability to apply knowledge learned both within and outside of class: in short, they have all the support they need to ensure they pass their industry certification exam after the classroom training event."
"Offering CertBlaster with Logical Operations' robust instructor-led training curriculum ensures that students struggling with exam questions have access to the practice they need in order to pass their industry exam and become certified," said Pierre Askmo, CEO of dti Publishing. "This cohesive post-class support solution is truly unique within the training industry, and we are thrilled to be working with Logical Operations to provide this level of support to professionals worldwide."
About Logical Operations
Now in its 30th year, Logical Operations helps organizations and individuals maximize training with an adaptable expert-facilitated/instructor-led learning experience. Its more than 4,000 titles are available through flexible delivery platforms that are designed for any learning environment. For more information, connect with Logical Operations at http://logicaloperations.com and on Twitter at @logicalops.
About dti Publishing
dti Publishing (http://dtipublishing.com) is the leading virtual lab and exam simulation provider. dti Publishing develops innovative, leading edge technology, enhanced learning products for blended solutions with courseware and curriculum based on modern instructional design theory, and both curriculum and exam objectives correlation. dti Publishing's main brands are LabConnection, ExamConnection, and CertBlaster.