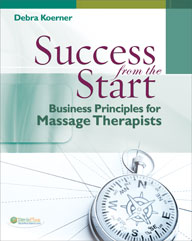 "With 'Success from the Start', I was passionate about specifically addressing attrition rates."
Philadelphia, PA (PRWEB) March 12, 2013
Available in March, the newest massage text on the market, "Success from the Start: Business Principles for Massage Therapists", is poised to set thousands of massage therapy students and professionals on a positive business path. Written by imassage, Inc. Co-owner Debra Koerner and published by F.A. Davis Company, "Success from the Start" consists of ten chapters that embody all business aspects of starting and running a successful massage practice - from employee, to independent contractor, to entrepreneur.
Koerner explains her intention with the text, "In 2007, I found a statistic that would change the course of my career and life. Industry research shows: each year about 60,000 students enter massage school to pursue becoming a massage therapist and at the same time, more than 50,000 practitioners leave the profession. Not understanding the reason behind this high attrition rate, I did further research and discovered the top two reasons practitioners leave: physical burn-out and/or business naivety. With 'Success from the Start', I was passionate about specifically addressing attrition rates."
Koerner partnered with Christa Fratantoro, Senior Acquisitions Editor at F.A. Davis, to bring this project from idea to fruition. Of their collaboration, Fratantoro says, "I knew instantly upon meeting Debra that she must write this book. Her humanness and genuineness come through in her writing, which I expect will engage students and professionals as they navigate their unique journeys in this important field."
Koerner, who pulled from her previous experiences of working for a Fortune 250 company, says, "My book provides a business plan template, a chapter on client loyalty, as well as marketing and public relations plans. There's nothing as comprehensive as it in the industry."
"Success from the Start" includes all business aspects of starting and running a successful massage practice. From defining personal success, to money matters, business ethics, and differentiating in the marketplace, Koerner takes the steps necessary to engage massage therapists in building and extending their careers. "Each chapter is a progression from the previous and offers insight into all aspects of becoming a massage therapist with a thriving and healthy practice," adds Koerner.
Publishing in March, "Success from the Start" may be ordered online at http://www.fadavis.com/product/massage-success-from-start-koerner, or from your favorite bookseller. Educators in massage therapy programs may contact F.A. Davis to inquire about review copies for adoption consideration.
About the Author - Debra Koerner is a natural health explorer, television host and producer, author, and successful entrepreneur. This former Fortune-250 executive left the corporate world to pursue her passions for wellness, which led to co-launching imassage, Inc., a massage education company. Fueled by a desire to make a difference in the world by bringing more awareness to natural health options, Koerner is the host and executive producer of The Journey into Wellbeing, a TV series airing on PBS stations nationwide in 2013. Koerner also blogs for SpryLiving.com as the Natural Health Explorer. Follow Koerner on http://www.journeyintowellbeing.com, http://www.reciperedoblog.com, Twitter @DebrasJourney and Facebook at The Journey into Wellbeing with Debra K.
About F.A. Davis Company - F.A. Davis Company, an independent publisher since 1879, has been publishing titles to meet the needs of generations of health care providers. Today, F.A. Davis carries on that tradition through its catalog of books, electronic, and online products for students, educators, and clinicians in Nursing, Medicine, and the Health Sciences. Its flagship titles, Taber's Cyclopedic Medical Dictionary and Davis's Drug Guide for Nurses, are among the most trusted names in health care publishing.