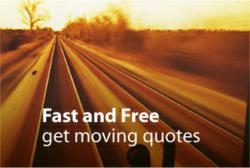 Need a licensed mover? Get up to six quotes from companies that can handle your specific kind of move.
(PRWEB) March 13, 2013
Planning ahead for a stress-free move seems improbable, if not impossible for most of us who have been through the process. An accurate estimation of moving costs without unexpected extra 'hidden' costs is likely thought to be just as elusive. However, movenetwork.com now offers clients an online moving guide with moving tips that help customers steer clear of those extra moving costs, and provides information on preparing for all the details in advance of move day. The guide covers areas such as how to pick a mover, calculating moving costs, insurance and liability, connecting utilities, self storage, checklists for weeks in advance of moving and even a reminder list of how to quickly settle in to your new home. Movenetwork.com are committed to raising the standard of quality comprehensive moving services by providing this resource to their customers. The moving guide is one way they can share with their customers some of the valuable moving tips they have learned from their years of professional moving experience. Avoid the last minute panic, and rest assured that if you have consulted movenetwork.com and their moving guide, the only details left to take care will be to take a little time for yourself, relax and enjoy your new home.
About movenetwork.com
Movenetwork.com is a full-service moving company that offers local and long distance moving quotes, packing and storage supplies, auto transport and other essential moving related services. Their online moving guide offers practical information to customers about who to contact when planning a move, how to hire reliable movers and how to best prepare for a planned relocation.