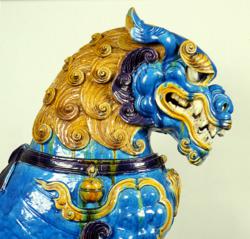 "Some of the Museum's imperial works are the other halves of pairs to holdings in the Palace Museum in Beijing and National Palace Museum in Taipei," said exhibition co-curator Katherine Anne Paul, curator of the Arts of Asia.
Newark, NJ (PRWEB) March 13, 2013
The Newark Museum will mark its 90th anniversary of exhibiting Chinese art with an exhibition that spotlights many of the hidden treasures of its 8,000-piece Chinese art collection. Ming to Modern: Elevating the Everyday in Chinese Art opens September 18, 2013 and runs through February 9, 2014.
Featuring more than 175 works, dating from the 16th century to present day, the exhibition showcases a vast range of the Museum's collection – from paintings and sculptures to ceramics, enamelware and lacquer ware to furniture, costumes and textiles. The majority of the works became part of the collection prior to 1941 and most have never been on display to the public.
"In 1923, Museum founder John Cotton Dana co-organized the then ground-breaking exhibition China: The Land and the People that traveled to 20 cities in the United States. His ambition was to present the art, culture and industry of China in the broadest context," said Mary Sue Sweeney Price, Director and CEO of the Newark Museum. "Ming to Modern takes a more refined approach, featuring extraordinary examples that demonstrate the highest levels of connoisseurship."
During the Ming (1368-1644) and Qing Dynasties (1644-1911), Chinese emperors competed with their predecessors by commissioning new works of art that imitated, honored or improved upon earlier imperial commissions. In China, these art objects always included "everyday" items. Tables and chairs were transformed into sculptures by adding gilding, lacquer or mother-of-pearl and cloisonné glass insets. Silks covered with artful embroideries were more than simple clothing or drapery: they became artistic statements. Ceramics were gilded treasures prized for their technical complexity, visual and tactile qualities and displayed as jewels on elite collectors' shelves. Imagery of bird and flower paintings during the Ming Period made subversive critiques of the government where in the Qing period they became codified to support and reinforce the government.
Ming to Modern: Elevating the Everyday in Chinese Art is broadly divided into two sections. The first, Imperial Edge, showcases approximately 100 ceramic and enamel wares largely from the Ming and Qing Periods (1368-1911), but also includes works by contemporary artists. The historic works highlight examples from imperial kilns that were innovative for their time and demonstrate imperial competition and veneration. "Some of the Museum's imperial works are the other halves of pairs to holdings in the Palace Museum in Beijing and National Palace Museum in Taipei," said exhibition co-curator Katherine Anne Paul, curator of the Arts of Asia at the Museum. This section also includes Under China's Influence which features European and American ceramics that were inspired by or created to imitate Chinese ceramics, "This phenomenon began in the 17th century and continues today," explained Ulysses Grant Dietz, exhibition co-curator, Chief Curator and Senior Curator for Decorative Arts at the Museum.
The second section, Elite Interiors, highlights extremely rare paintings, furniture and lacquer wares as well as costumes and textiles. A large scale, late 19th-century family portrait of a matriarch with 15 members of her family seated in an elegant garden is "spectacular," Paul said. Actual costumes and other accoutrements, such as snuff bottles, water pipes, pocket watches and fans like those featured in the painting will also be on display. Ming Dynasty (1368-1644) paintings will be paired next to Qing Dynasty (1644-1911) lacquered furniture that features similar birds and flowers; however, , the interpretation of the animals' significance differs greatly between these two time periods. Additionally, a selection of Taoist art, including robes, paintings and sculptures will be highlighted.
Ming to Modern: Elevating the Everyday in Chinese Art will be complimented by a four-part introductory course about Chinese art taught at the Museum by Annette Juliano, Professor of Asian Art and History at Rutgers-Newark, and a scholarly symposium in the fall of 2013. Stay informed as new event information emerges by following the Museum on Facebook at facebook.com/newark.museum or Twitter at twitter.com/newarkmuseum; or by visiting http://www.newarkmuseum.org.
-- end --
ABOUT THE NEWARK MUSEUM
The Newark Museum is located at 49 Washington Street in the Downtown/Arts District of Newark, New Jersey, just 3 blocks from NJPAC and 10 miles west of New York City. The Museum is open all year round: Wednesdays through Sundays, from Noon – 5:00 p.m. Suggested Museum admission: Adults, $10.00; Children, Seniors and Students with valid I.D., $6.00. Newark Residents and Members are admitted free. The Museum Café is open for lunches Wednesday through Sunday. Convenient parking is available for a fee. The Newark Museum campus, including its collections, facilities, and other resources, is accessible to accommodate the broadest audience possible, including individuals utilizing wheelchairs, with physical impairments, other disabilities, or special needs. For general information, call 973-596-6550 or visit our web site, http://www.NewarkMuseum.org.
Newark Museum, a not-for-profit museum of art, science and education, receives operating support from the City of Newark, the State of New Jersey, the New Jersey Council on the Arts/Department of State — a partner agency of the National Endowment for the Arts, the New Jersey Cultural Trust, the Prudential Foundation, the Geraldine R. Dodge Foundation, the Victoria Foundation, the Wallace Foundation and other corporations, foundations and individuals. Funds for acquisitions and activities other than operations are provided by members and other contributors.
The Newark Museum is just a few steps from the new NJTransit Light Rail Washington Park Station. Direct connection with the Light Rail at the Broad Street Station and through Penn Station makes the Museum a convenient ride from all points in the region.