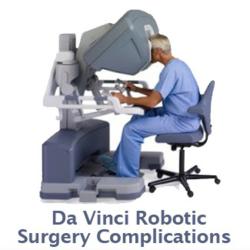 If you or a loved one has been injured by a da Vinci surgical robot contact Wright & Schulte LLC, a leading medical device injury law firm today at 1-888-365-2602 or visit www.yourlegalhelp.com
Columbus, OH (PRWEB) March 12, 2013
Wright & Schulte LLC, an experienced medical device law firm that is currently investigating Da Vinci surgery robot lawsuits, is disturbed by the growing number of claims that allege injuries due to the Da Vinci Surgical System. According to a recent report from Bloomberg.com, 10 Da Vinci robotic surgery lawsuits have been filed in the past 14 months on behalf of individuals who suffered serious complications during procedures where the robot was used, including damage to the liver, bowels and rectum, internal bleeding and vaginal injuries. At the same time, reports of Da Vinci Robotic surgery complications made to the U.S. Food & Drug Administration's (FDA) database have increased.
bloomberg.com/news/2013-03-05/robosurgery-suits-detail-injuries-as-death-reports-rise.html
Wright & Schulte LLC is now offering free personal injury lawsuit consultations to individuals who sustained serious injuries in Da Vinci Robot procedures, including:

Tears and/or burns of the intestines
Punctured blood vessels
Punctured and/or cut ureters
Severe bowel injuries
Vaginal cuff dehiscence
Excessive bleeding
Surgical burns
Sepsis
Peritonitis
Death
For more information on filing a Da Vinci Surgical Robot lawsuit, or to arrange for a free legal consultation, please visit yourlegalhelp.com.
Marketed by Intuitive Surgical, the Da Vinci Surgical System is a robotic surgery system used in minimally invasive surgeries, including hysterectomies, prostate removals, heart surgeries, gallbladder removals and bariatric surgery. The robot is supposed to offer patients less bleeding and scarring, as well as shorter recovery times compared to traditional procedures. However, the Da Vinci patients detailed in the Bloomberg report did not experience any of those benefits. For example, in one case a Michigan man suffered 15 hours of internal bleeding after his liver and spleen were allegedly punctured during a heart valve repair. In another, an Alabama man suffered damage to his rectum and bowel after prostate surgery. A California woman allegedly suffered damaged rectal muscles and a diminished sex life after a hysterectomy involving the Da Vinci robot. In an interview with Bloomberg, she said her gynecologist later called the vaginal injury she sustained a "textbook" example of a side effect increasingly being seen with robot surgery.
According to Bloomberg, injury reports to the FDA involving the Da Vinci robot jumped to at least 115 in 2012 from 24 in 2009, while deaths rose to 30 from 11. In response to those rising reports, the FDA in January launched a survey of doctors to try to determine if reports of Da Vinci robot complications are indicative of a problem with the technology. While adverse event reports do not prove there is a problem inherent with the robot, Bloomberg pointed out that in the past, they have "served as a valuable early-warning system" for other dangerous medical devices.
About Wright & Schulte LLC
Wright & Schulte LLC, a leading personal injury firm, is dedicated to the belief that America's legal system should work for the people. Every day, the attorneys of Wright Schulte LLC stand up for the rights of people who have been injured or wronged, and fight tirelessly to ensure that even the world's most powerful corporations take responsibility for their actions. If you're looking for a law firm that will guarantee the aggressive and personal representation you deserve, please do not hesitate to contact Wright & Schulte LLC today. Free case evaluations are available through yourlegalhelp.com, or call 1-800-399-0795.
Contact:
Wright Schulte LLC
812 East National Road
Vandalia, Ohio 45377
1-800-399-0795