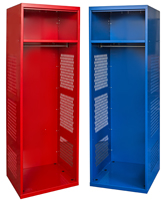 Who but A Plus Warehouse stocks Football Lockers in Two Colors ?
Boston, MA (PRWEB) March 12, 2013
A Plus Warehouse has been selling a high quality all welded football locker for several years now, and management has come up with a new idea for this older line. Most of the lockers sold at A Plus Warehouse are manufactured in pieces and are sold unassembled or pre-assembled for customer convenience. Manufacturing gear lockers in that way minimizes cost as parts can be used for many different lockers. By applying A Plus Warehouse's standard locker manufacturing process to football lockers, production cost drops and so does selling price.
The result is that customers can get high quality football lockers at a price point up to 35% less. Additionally, for customers that want to save even more money, football lockers and gear lockers by Hallowell can now be shipped unassembled. Not only does shipping unassembled save users money for the product, money is also saved in transportation.
A Plus Warehouse calls these lockers inexpensive football lockers. They go by other names certainly. It is quite well known that Penco Products makes a fine line of lockers. Penco's name for this product is Stadium Lockers. Penco Stadium lockers are named simply because they are used in stadiums primarily. Other manufacturers and dealers call these gear lockers or turn out lockers. Police departments and the military use that terminology. A rehouse calls them inexpensive because they are inexpensive relative to all welded lockers. A Plus Warehouse calls them football lockers because football teams tens to use open lockers more than other teams. That being said, Hockey teams, Basketball teams, Lacrosse Teams, and most other sports teams can certainly make use of these lockers!
When A Plus Warehouse only sold football lockers all welded, customers had to deal with longer lead times as well as the higher price already mentioned. Football lockers are similar to other lockers in that customers tend to order them when they are needed – not 8 weeks in advance! With this in mind, A Plus Warehouse decided to offer a line that was manufactured in mass and that would be stocked in more than one color. The new lockers are in stock in Red and Blue. Some customers order both colors since they look very nice together. The lockers are offered in stock either fully open with the top shelf, or with a locking top, or even a footlocker with storage below. Any combination of locking top and footlocker below is offered in both colors in stock.
A quick word on A Plus Warehouse: A Plus Warehouse is a national dealer specializing in lockers and storage equipment. A Plus Warehouse's new line of inexpensive football lockers will save customers a significant amount of money and decrease lead time as well. Customers are encouraged to call 800-209-8798 with any sport lockers questions.