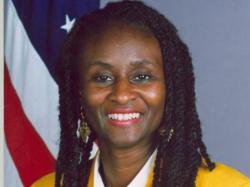 "Our students have a chance to meet a world-class leader with a deep knowledge of foreign affairs, helping to create better understanding and new connections between academic and nonacademic worlds," says Jorden Sanders, Westminster College SGA President.
Fulton, MO (PRWEB) March 20, 2013
Robin Sanders, former U.S. Ambassador to Nigeria, will spend a week on the Westminster College campus in Fulton, Mo. March 19 to 22 meeting with students and faculty in formal and informal settings as part of the Woodrow Wilson Visiting Fellow program. A nationally ranked liberal arts college, Westminster College has a long tradition of hosting visits from national and international leaders.
"Our students will have a chance to meet a world-class leader with a deep knowledge of foreign affairs, helping to create better understanding and new connections between the academic and non-academic worlds," says Jorden Sanders, Student Government Association President. "Robin Sanders will be a perfect fit for Westminster College."
Ambassador Sanders will present a keynote lecture at 4:30 p.m., on Thursday, March 21, in the Church of St. Mary the Virgin Aldermanbury on campus. The lecture is free and open to the public.
In addition to the lecture, Ambassador Sanders will conduct classes, seminars, workshops, and lectures and will meet with students and faculty members informally throughout the week to share her practical knowledge in the areas of foreign policy, human rights, and living in a global community.
"We are delighted that former Ambassador Sanders will also have time to get to know our campus and explore in depth how the classroom and campus relate to the broader society," says SGA President Sanders.
Robin Renee Sanders served as U.S. Ambassador to the Federal Republic of Nigeria and the ECOWAS regional organization from 2007–2010 and to the Republic of the Congo from 2002–2005.
Prior to that, she was the international affairs advisor and deputy commandant of the Industrial College of the Armed Forces—one of the U.S. military's premier colleges at the National Defense University in Washington, DC—where she also taught international affairs, national security issues, and African studies.
Sanders has served twice as the director for Africa at the National Security Council at the White House. She has a range of foreign and public policy analytical experience; technical expertise in public diplomacy; and best practice expertise on energy sector reform.
She holds a Doctor of Science degree from Pittsburgh's Robert Morris University and is the recipient of the Joint Chiefs of Staff Civilian Honor Award, one of the highest U.S. military civilian honor awards.
The Woodrow Wilson Visiting Fellows program, which is administered by the Council of Independent Colleges (CIC) in Washington, DC, brings prominent artists, diplomats, journalists, business leaders, and other professionals to campuses across the United States for a week-long residential program of classes, seminars, workshops, lectures, and informal discussions.
For 35 years, the Visiting Fellows have been introducing students and faculty members at liberal arts colleges to a wide range of perspectives on life, society, community, and achievement. The Visiting Fellows program is available to all four-year colleges and universities. For more information, visit CIC's website at http://www.cic.edu/visitingfellows.
Founded in 1851, Westminster College is one of the top liberal arts colleges in America, according to all major educational ranking firms including U.S.News & World Report, Forbes magazine, The Princeton Review and Washington Monthly. National high school counselors recognize Westminster as one of the top two liberal arts colleges in Missouri to receive the best education. This selective college for men and women operates on two campuses, one an 86-acre residential campus in Fulton, MO, and a second Southwestern urban campus in the vibrant downtown of Mesa, AZ. Westminster is a challenging academic environment where students are educated to lead and inspired to achieve.
To learn more about Westminster College, people can visit the College web site at http://www.westminster-mo.edu.
The Council of Independent Colleges is an association of 640 nonprofit independent colleges and universities and 90 higher education organizations that has worked since 1956 to support college and university leadership, advance institutional excellence, and enhance public understanding of private higher education's contributions to society. CIC is the major national organization that focuses on providing services to leaders of independent colleges and universities as well as conferences, seminars, and other programs that help institutions to improve the quality of education, administrative and financial performance, and institutional visibility. CIC also provides support to state fundraising associations that organize programs and generate contributions for private colleges and universities. The Council is headquartered at One Dupont Circle in Washington, DC. For more information, visit http://www.cic.edu.
Prior to Sanders' March 21 lecture, from 4 p.m. to 4:30 p.m. she will be available for media interviews at the Church. Any media interested in interviewing the ambassador should contact Jorden Sanders directly in advance at jsanders(dot)14(at)westminster-mo(dot)edu.