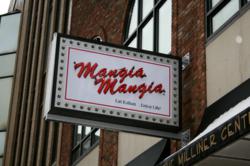 Kalamazoo, MI (PRWEB) March 12, 2013
Mangia Mangia, an Italian restaurant in downtown Kalamazoo, has a new website that allows users to view the current menu, buy gift cards, and find information about catering or hosting large events and more.
The company's new website entices a user's visual senses with tempting photos of meals prepared at the restaurant. The design was created with old Italy in mind and features many photos of not only entrees, but also the restaurant's design to really tempt visitors so they are more likely to come in for lunch or dinner.
When it comes to layout, the website has navigational cues on the top of each page that make browsing easy. These cues include menu, catering, banquet room, photos, about us, gift cards and parking/directions. At the bottom of each page users will find another navigation tool: a sitemap with links to all pages throughout the website. Also at the bottom of each web page is a link to Mangia Mangia's Facebook profile.
In addition to design and layout, the website offers thorough information about the menu, private events and catering. Promotions are highlight on the homepage and there is a link for coupons that can be found at the bottom of each page that is live when applicable. The site also provides hours of operation, contact information, directions and offers tips on where to park in downtown Kalamazoo.
Mangia Mangia is an Italian restaurant in downtown Kalamazoo, Mich. It is located at 209 S. Kalamazoo Mall. The restaurant opened in 2008 and has a menu created by Chef Allen Worman.
The restaurant's new website was developed and designed by Blue Fire Media. Located in Portage, Mich., Blue Fire Media specializes in web design and development as well as web marketing. The company's team of programmers, graphic designers and copywriters work together to create user-friendly, search engine optimized websites.