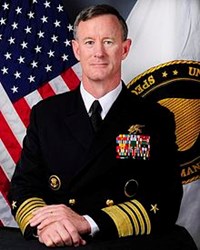 Fredericksburg, TX (PRWEB) March 11, 2013
The Admiral Nimitz Foundation is pleased to announce Admiral Bill McRaven, USN, will participate in the foundation's Distinguished Speaker Series. Admiral McRaven, first runner-up for Time's 2011 Person of the Year, will speak Tuesday April 16, 2013, at St. Mary's Catholic Church Parish Center in Fredericksburg, Texas.
Admiral McRaven is the commander of U.S. Special Operations Command at MacDill Air Force Base, Florida. From June 2008 to June 2011, he was the commander of Joint Special Operations Command (JSOC) headquartered at Fort Bragg, North Carolina. During that time, McRaven is credited with organizing and executing Operation Neptune's Spear – the special ops raid that led to the death of Osama bin Laden on May 2, 2011.
McRaven's professional education includes assignment to the Naval Postgraduate School, where he helped establish, and was the first graduate from, the Special Operation/Low Intensity Conflict curriculum. He also authored the book Spec Ops: Case Studies in Special Operations Warfare: Theory and Practice while at the Naval Postgraduate School.
The Admiral Nimitz Foundation is honored to have Admiral McRaven as part of the Distinguished Speaker Series. Space is limited so reserve your spot today.
The evening of the 16th will start with a cocktail reception at 6:00 p.m. followed by dinner starting at 7:00 p.m. The dinner is open to the public and requires a ticket. For more information on tickets and the event please contact Laura Nelson at 830-997-8600 ext. 200, or by email at nelson(at)nimitzfoundation(dot)org. Space is limited and tickets are on a first come basis.
The Admiral Nimitz Foundation supports, operates, and manages the National Museum of the Pacific War which is a Texas Historical Commission property.