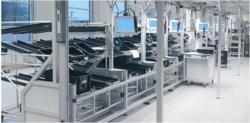 Charlotte, NC (PRWEB) March 13, 2013
A-Line Corporation announces a new system for creating workstations. From lab stations to assembly work places, the SmartLean system is designed for versatility.
The SmartLean system allows quick and easy construction for an infinite variety of workstations. From kanban conveyors to tool tracks to light fixtures, A-Line's system has the building blocks for virtually every workstation need. A-Line also creates custom work surfaces to complement the workstation. Customers can select from a variety of surface materials ranging from aluminum or stainless steel to chemically-resistant laminates.
SmartLean is compatible with A-Line Corporation's existing line of t-slot aluminum framing.