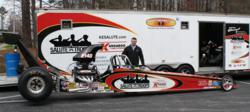 Orange Beach, AL (PRWEB) March 11, 2013
Columbia Southern University (CSU) is proud to enter a marketing partnership with race car driver Don O'Neal.
"We are excited about this great opportunity to partner with a celebrated and professional racer," said CSU Marketing Director Beau Vignes. "CSU hopes this partnership will allow Don, who is a CSU student, to inform racing fans about the great online educational CSU offers. This is a first for CSU and Don and we are excited about the potential of this great opportunity."
"Working with CSU has been on my plate for over a year. After being a part of the student body on this side of the process, I am so happy with the quality of the education and user friendliness that I wanted to help spread those thoughts with others," explained O'Neal, who has been racing competitively since 1998.
"I'm extremely excited to be able to represent and communicate the programs that CSU has to offer. I hope that we are able to grow this partnership for many years to come," added O'Neal who is near completion of his CSU bachelor's degree in business administration.
O'Neal is the first active-duty soldier to make it to a final round at an NHRA national event at the biggest race of them all -- the U.S. Nationals in Indianapolis in 2010. He's competed in about 500 races, primarily in drag racing. He has been recognized by the NHRA Technical Department for having the best engineered car at its first race in 2008. He has served 22 years in the military and worked in the Army's recruiting branch for the past 12 years.
CSU helps individuals with hectic work and family commitments pursue their educational dreams. CSU offers online associate, bachelor's, master's and doctoral degree programs in various fields including criminal justice, fire science, occupational safety and health, and business administration. Through low-cost tuition, textbooks provided through CSU book grant and flexible start dates, CSU helps many advance their careers or start a new one via online education.
If you would like learn more about CSU, please visit http://www.ColumbiaSouthern.edu/racing.