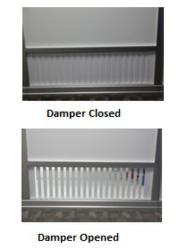 Burnsville, MN (PRWEB) March 13, 2013
Gerbig Engineering, a company that specializes in cleanroom design, fabrication, installation and validation is introducing a new product into the market place.
The product is a new damper system available for use with the AireCell ™ line of modular walls. Dampers can be used to adjust the positive pressure within the cleanroom, an improvement over having to adjust fan speed for fixed area returns. The dampers fit into AireCell ™ extrusions with the standard 1/8" retainer. The dampers are closed or opened from outside or inside the hardwall modular cleanroom. Roger Danson from Gerbig Engineering headed up the project.
"We believe this system gives our customers more flexibility in managing their cleanroom environment." Said Fred Gerbig, president of Gerbig Engineering. "Our company has a strong history of developing robust product offerings that support or enhance the use of cleanrooms"
Since 1985, Gerbig Engineering manufactures a complete line of contamination control devices, softwall and hardwall cleanrooms. The products are primarily based on the AireCell™ line of extrusions.
Gerbig Engineering is a privately owned company located in Burnsville Minnesota. Gerbig has been creating cleanroom solutions for a variety of industries since 1985. Solutions include softwall and hardwall modular cleanrooms, cleanroom equipment and validation services. The company features AireCell™, a unique system of aluminum and PVC extrusions specifically designed for cleanroom construction.
For more information, please go to their website http://www.gerbig.com or call 888-628-0056.