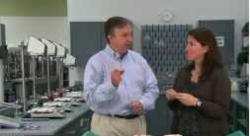 White Marsh, MD (PRWEB) March 13, 2013
This month, TIC Gums popular on line video series "Does This Have Gum In It" examines the role of sugar in shaping granola bars and other formed cereal bars, and, what can be done to reduce the amounts of sugar in products like these without sacrificing appeal. Nutrition labels and ways to reduce sugar have been in the news a great deal lately. The video demonstrates how food gums and gum systems can replace the body and film forming that are lost when dissolved sugar is removed or reduced from this or other fully sweetened products. The program is hosted by Harold Nicoll, marketing manager for TIC Gums and Maureen Akins, technical manager for TIC Gums.
Replacing Sugar Is Not Enough
Replacing sweetness can be accomplished with high intensity sweeteners like aspartame or stevia. What is not easy to replace is the texture, stability, gloss, stickiness, and film forming attributes sugar provides that is used to shape and hold cereal together. Sugar provides these because it is a solid. It is these properties that bind the parts of the granola together. Food scientists at TIC Gums invented a product that replaces the "cling" needed to keep disparate ingredients like these together.
Add-Here™ 3200 is a proprietary line of hydrocolloids that replaces the texture and binding qualities needed but with significantly less sugar. Add-Here 3200 delivers other functional benefits as well. Traditionally sugar, honey, or high fructose corn syrup are used for tying together ingredients like oats, shredded coconut, seeds, nuts, and dried fruit into cereal clusters. Reduced sugar content in breakfast cereal and similar food products can potentially result in the loss of taste and textural appeal when compared to that of fully sweetened products. Identifying hydrocolloids that can substitute the texture lost when sugar is removed is possible. Add-Here 3200 is proof.
Spray-Able and Soluble
The Add-Here line of products is easily dispersible and readily soluble with viscosity low enough to be spray-able. It can also reduce drying time by as much as 20%.
About TIC Gums
TIC Gums is a global leader in advanced texture and stabilization solutions for the food industry. Food and beverage companies rely on TIC Gums to improve the texture, stability, consistency, nutritional profile, and shelf appeal of their products. Legendary customer service, high quality standards, and the unrivaled knowledge of our Gum Gurus® has made TIC Gums the industry leader for more than 100 years