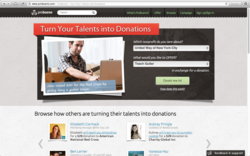 ProBueno's goal is to transform the way people think about pro bono work and use technology to make it easy.
Cambridge, MA (PRWEB) March 11, 2013
ProBueno (http://www.probueno.com) is a new way to raise money for charity; built for the social web, ProBueno enables anyone to offer his or her talents in exchange for donations. To find a donor, ProBueno connects "volunteers" with their social circles (Facebook friends, neighbors, reading groups, etc.). For example, a musician can offer to give a piano lesson to any fan that donates $30 to the Red Cross.
"ProBueno's goal is to transform the way people think about pro bono work and use technology to make it easy," says Michel Rbeiz, a co-founder of ProBueno. Pro bono work is generally reserved to a very small and elite subset of the population, who can offer their professional expertise for free to nonprofits. It comes with a number of constraints: finding a nonprofit one cares about, that also needs particular talents at a time and place that's mutually acceptable.
Whether it's a favor for a neighbor, baking a batch of cookies, or teaching piano lessons, anyone has a talent to offer. ProBueno unlocks the pro bono model by leveraging social circles: anyone can offer any talent to his or her social circles in exchange for a donation. The team sees a future where simple acts like giving a piano lesson can help fight breast cancer.
"We developed ProBueno because we realized how difficult it was to make a difference for the causes we cared about," says co-founder Ryan Kabir. "We could not write a large enough check, or drop everything to volunteer. We felt there should be an easier way for people to use their talents for good."
The five-member team has raised $340K in angel funding from friends and family, and a group of investors that includes Habib Haddad (CEO of Wamda Capital Fund) and the BeryTech fund (http://www.berytechfund.org/). ProBueno is now coming out of open beta, with the release of a new fundraising tool for non-profits, companies, associations and other groups, that complements ProBueno's consumer offering. Khan Academy (http://www.probueno.com/KhanAcademy), a non-profit that provides free online education, and other small organizations are piloting the tool as a new way of engaging their supporters online.
About ProBueno
ProBueno is a Cambridge-based social impact startup, that makes it easy for anyone to find and offer talents in exchange for donations to their favorite causes. The five-member team has raised a round of angel funding from a group of investors that includes Habib Haddad (CEO of Wamda Capital Fund) and the BeryTech fund. For more information, please visit http://www.probueno.com