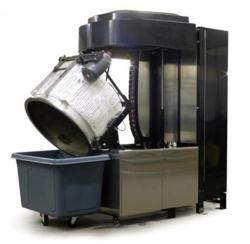 Treating Red Bag Waste Has Never Been Easier!
Atlanta, GA (PRWEB) March 13, 2013
WasteCare Corporation proudly introduces a new product that is able to reduce disposal cost with red bag waste. Matt Kennedy (with WasteCare) adds, "The product, designed and engineered by a technical staff with many decades of experience, has proven itself at capabilities equal to 100 times the minimum thresholds that are necessary for meeting regulatory compliance. The state of the art design with console and HMI (Human-Machine Interface) adds tremendous automation, streamlining benefits and user-friendliness (such as remote internet monitoring) ... in addition to the huge cost reductions."
As a special promotion involving turnkey arrangements and instant monthly paybacks, current production capacity is being prioritized for customers that meet certain facility requirements and a few other basic criteria (including volume of red bag waste). In exchange for a greatly reduced monthly rental rate of only $1,500 per month there is a 50 / 50 shared savings stipulation. "In effect, customers who qualify will be assured of at least doubling their money each month," states Kennedy.
An Example:
With a small footprint of only 27 square feet and simple installation requirements the product can be implemented easily into almost any existing facility within a couple days and minimal technical know-how and/or labor. Basically one machine can handle roughly 200+ pounds per hour of red bag waste, rendering it totally harmless and fit for regular trash disposal. This means that a facility generating 1,500 pounds of red bag waste per day (275 tons / yr) that normally spends $150,000 to $165,000 per year could reduce red bag costs down to roughly $40,000 per year. [$12,000 in processing costs, $14,000 in hauling costs, as regular waste, plus another $14,000 in tonnage / weight fees], representing an approximate savings of $9,000 per month.
Facilities that are currently free to change their red bag waste handling routines (without contractual restrictions) and are considering other alternatives for their red bag disposal can contact WasteCare Corporation at sales(at)wastecare(dot)com. "We will also work through existing channels of resellers and commission salespeople who already have a presence in this industry segment, so these inquiries are also welcome," adds Kennedy.
A Note about WasteCare:
WasteCare Corporation has been providing waste recycling solutions since 1993 with a focus on innovative products and services that reduce costs and increase revenues. This includes numerous types and categories of waste recycling balers, compactors, crushers, shredders, grinders, densifiers and other waste recycling equipment, products and services.
To learn more about WasteCare just follow the link: Red Bag Waste Equipment
This release was submitted by Click Ready Marketing an Atlanta PR Company.