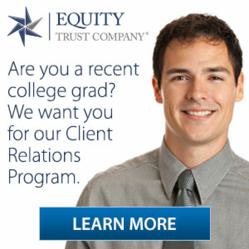 Cleveland, OH (PRWEB) March 12, 2013
Equity Trust Company, a leading custodian of the rapidly growing self-directed IRA industry, is seeking success-driven individuals for its growing Client Relations Program.
The company is opening up just 10 positions in its Operations Department for passionate, motivated people who have a desire to assist clients with their financial dreams while building a successful career for themselves.
The Career Path at Equity Trust offers:
> Nearly unlimited potential for exciting future opportunities in various areas of operations, sales and more.
> First-hand experience of the inner-workings and procedures of the company, essential for advancing to future company leadership roles.
> No financial industry experience? On-the-job training prepares you to excel in this unique financial field, regardless of background.
> Unbeatable company culture: Employee recognition and incentives, social events and a collaborative spirit are ingrained in our core values.
Interviews have begun and the next training class begins March 18, but it's not too late to apply. Candidates can visit http://www.TrustETC.com/careers for the Client Relations Program details and application.
About Equity Trust Company
Equity Trust Company, with its corporate headquarters in Greater Cleveland, Ohio and operations in Waco, Texas and Sioux Falls, South Dakota, is at the forefront of the self-directed retirement plan industry. The Company specializes in the custody of alternative assets in self-directed IRAs, Coverdell Education Accounts, Health Savings Accounts and qualified business retirement plans. Along with its affiliates, Equity Trust Company provides services to more than 130,000 individuals and businesses nationwide with approximately $12 billion in assets under custody. Since 1974, the company and its affiliates have helped investors make tax-free profits through education, innovation, and a commitment to understanding individual needs. Visit http://www.TrustETC.com for more information.
##