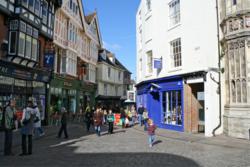 The rising net company growth in Canterbury signals a local economy that is perhaps recovering from the worst effects of the recession
Canterbury, Kent (PRWEB UK) 28 March 2013
New research from company formation agents, Duport.co.uk reveals there was a rise in net company growth in Canterbury during 2012. Between January and December, the company register for the area grew by 208, representing growth of 39%.
However, after a record year in 2011, company formation in Canterbury fell by 4% during 2012. The research from Duport shows that it was a drop in company closures that led to the rise in net company growth.
Canterbury is the second-largest economy in Kent, with a thriving retail and tourist industry. The opening of the Whitefriars shopping centre in 2001 gave a huge boost to the economy and provided thousands of jobs. The historic nature of the city pulls in tourists year after year, with Canterbury Cathedral generating over a million visits a year.
Managing Director of Duport.co.uk, Peter Valaitis commented:
"The rising net company growth in Canterbury signals a local economy that is perhaps recovering from the worst effects of the recession.
"Although company formations have dropped slightly, company closures have also fallen - which means less businesses are failing. In the long term, this should help create a more stable business base."
The Duport Business Confidence Report for Canterbury uses economic data to provide a valuable insight into the local economy. More information and statistics can be found at http://www.duport.co.uk/canterbury.
Duport Business Confidence Reports are generated and released by Duport Associates Ltd. The data contained in these reports is assimilated and analysed by Duport using public record data from sources including Companies House, Office for National Statistics and Ordnance Survey. Duport Associates Ltd is a leading UK company formation agent, established in 1997 and registering around 10,000 new companies each year through its Companies House approved software.