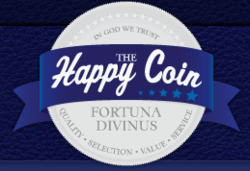 We consider it a privilege to assist you in building any kind of coin collection - from a raw set of circulated Indian Head Cents to a high end collection of Proof Morgan Dollars or Mint State Double Eagles.
Baltimore, MD (PRWEB) March 12, 2013
The Happy Coin, an online coin dealer for rare pennies, quarter, dimes and dollars will be at the Whitman Expo in Baltimore, Maryland. The Whitman Spring Expo has nearly 1000 independent dealers and is considered one of the leading coin and currency shows. The expo has a variety of events including coin auctions, activities for kids, information sessions on various coins and exhibits from different coin dealers. The expo also helps local, regional and national coin collecting clubs create awareness and encourage membership. This expo is great for avid coin collectors, budding numismatics and also general public wanting to learn about coins.
The Happy Coin is excited to exhibit at this event and showcase valuable coins such as Buffalo Nickels, Barber Quarters and Lincoln Cents among other coins. Chris Moran, the owner of the company is very enthusiastic to talk to people and share his passion for coins. The Happy Coin specializes in finding accurately graded coins with upside potential. To that end, they maintain an extensive inventory of CAC endorsed PCGS and NGC coins. The Happy Coin will be in Booth # 110. Learn more details about the event below:
Who:
Chris Moran, The Happy Coin, Booth # 110
When:
Thursday, March 14 - Sunday, March 17, 2013
Where:
Whitman Baltimore Spring Expo, Baltimore Convention Center
About The Happy Coin:
The Happy Coin services both new and seasoned coin collectors with an extensive selection of hard-to-find coins and commemorative coins. From a Morgan Silver Dollar collection to rare Indian Head Cents and more, The Happy Coin carries a diverse stock of gold, silver, copper and nickel coins from various years to meet the needs of any coin collector.