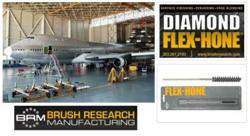 BRM industrial brushes are the surface finishing solutions of choice for honing engine components and deburring aerospace and aircraft parts - and to hone cylinders of all types and sizes.
Los Angeles, CA (PRWEB) March 12, 2013
Brush Research Manufacturing (BRM), makers of industrial brushes for cylinder honing, is proving that the aviation and aerospace industry prefers BRM ball hones for deburring, edge radiusing, and chamfer blending. BRM's Diamond Flex-Hone® is the surface finishing tool of choice for aerospace companies like Sikorsky Global Helicopter. BRM's Flex-Hone® technology is also solving surface finishing problems at NAS North Island, the U.S. Navy's Naval Air Station (NAS) on San Diego Bay.
Helicopter Drive Shafts and Aircraft Engine Components
The Diamond Flex-Hone® provides superior surface finishing for helicopter drive shafts and aircraft engine components. Made with resin-bonded diamond crystals, this BRM ball hone is self-sharpening with a nickel-coated abrasive that provides excellent crystal retention. The Diamond Flex-Hone® comes in standard sizes from 4-mm to 1-1/2 and is available in three mesh sizes (170/2000, 800, and 2500 grit).
Designed for use with any type of cylinder, Diamond Flex-Hone® technology provides rapid cut rates, excellent heat dissipation, and optimal surface finish. The BRM cylinder hone is ideal for surface finishing hard materials like heat-treated steel, high nickel stainless steels, MMX aluminum alloys, titanium, space age alloys, and chromed and plated metals. Diamond honing is also suitable for carbide and ceramic.
Cross-Hole Deburring and Chamfer Blending
Brush Research Manufacturing also provides the aviation and aerospace industry with flex ball hones for cross-hole deburring. Traditionally, deburring brushes required expensive, time-consuming operations with elaborate setups. Yet because BRM's Flex-Hone® tool is self-centering and self-aligning to the bore, today's machinists can create clean, radiused intersections with greater accuracy and speed.
The aviation and aerospace industry is also using BRM cylinder hones to chamfer blend jet-engine components. Available in a variety of grit sizes and abrasive types, this engine hone blends and radiuses sharp edges, removes microburrs on chamfered holes, and eliminates stress risers caused by the chamfering operation. The Flex-Hone® for chamfer blending speeds surface finishing operations and is suitable for use with aerospace components made of titanium, Inconel®, super CVM, and nickel-based stainless steel alloys.
Aircraft and Aerospace Brushes
BRM's aircraft and aerospace brushes are also used for parts cleaning, precision deburring after machining or grinding operations, and for blending surface imperfections and consistencies. By finding innovative ways to solve difficult surface finishing problems, BRM is supporting American manufacturing while reaching international markets.
About Brush Research Manufacturing
Brush Research Manufacturing (BRM) is a Made in the U.S.A. manufacturer located in Los Angeles, California. Since 1958, BRM has been solving difficult finishing problems with brushing technology. BRM's Flex-Hone® tool is the standard against which all other surface finishing tools are compared.
Media Contact:
Heather Jones
Director of Marketing
Brush Research Manufacturing Co. Inc.
4642 Floral Drive
Los Angeles, CA 90022
HJones(at)brushresearch(dot)com)
For Immediate Release:
www(dot)brushresearch(dot)com
Ph: (323) 261-2193