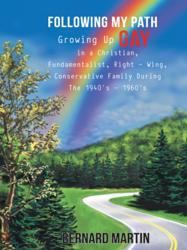 Being gay doesn't have to stop you from leading a fulfilling and beautiful life.
Columbus, Ohio (PRWEB) March 13, 2013
The massive challenges of growing up as a gay Christian man living in the conservative Midwest weren't enough to stop author Bernard Martin from living his life.
In his new tell-all autobiography, Following My Path, Martin brings readers along his groundbreaking journey, from the realization that he was gay, to the hardships of overcoming cancer, to the racial issues surrounding his adoption of an African American child.
In Following My Path, Martin depicts his experiences, some funny, some poignant. Martin's story is vital to understanding what many gay people have had to endure to find their peace and happiness in American society.
Religion plays a central role in Martin's book. Following My Path centers around the negativity Martin received from his conservative Christian mother and how he overcame it alone.
As an inspiration for younger homosexuals, Martin believes the LGBT community needs to understand history in order to appreciate the United States' present liberal culture. In Following My Path, Martin explores the lives of the people who fought for gay rights and struggled to get where they are today.
"I wanted to let people know you can be a Christian and gay," Martin says. "Being gay doesn't have to stop you from leading a fulfilling and beautiful life."
Following My Path
By: Bernard Martin
ISBN: 978-1-4772-8374-5
Softcover: $14.95
Hardcover: $23.19
E-book: $3.99
About the Author
A New York native, Bernard Martin graduated from Olivet Nazarene College and received his Master's Degree from Ohio State University in Supervision and Curriculum. He has an adopted African American son. He is a retired educator, home restorer, antique collector, gay Christian and cancer survivor. He currently lives in Columbus, Ohio, and enjoys spending time with his grandchildren.
###